Easy Money: Hard to Kill
(2014)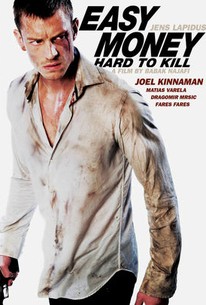 Easy Money: Hard to Kill Photos
Movie Info
Former business student JW is serving time for drug smuggling as Jorge flees Switzerland following a botched drug deal, and finds himself on the run from Mahmud, who has targeted him for death in a bid to settle a sizable debt with feared Serbian crime-boss Radovan. ~ Jason Buchanan, Rovi
News & Interviews for Easy Money: Hard to Kill
Critic Reviews for Easy Money: Hard to Kill
Audience Reviews for Easy Money: Hard to Kill
This is the second in a series of three and the least interesting of them. As the films go on, you start simply waiting for everyone to be killed. Jorge was better as a grungy type with long hair and street clothes: he lacks style in rich trappings. The big heist by a beefy, wordless gang is implausibly professional. The gothic theme seems like a strangely misplaced cameo borrowed from Scarface, or possibly the Addams family, and ending up somehow as a spaghetti western. But the moment you see the lovers smiling at each other from their ambulance stretchers, you know that it has lost the drift and the ending of film three is a shaky fantasy. Check the fringe: it's too much. The film is mostly bloody violence as entertainment, full of anti-heroes, yet, even then, the subtitles tone down some of the language, and it ends up wanting to be mainstream. Once again, it will fill in the time, but maybe Scandi crime is getting guilty of just cashing in now.
A taunt, stylish, tense and riveting crime-thriller. A mesmerizing and electrifying new chapter to this thrilling series. I loved how the films four leads had entirely different story-lines and showing how they were unfolding and seeing how they are trying but not succeeding in bettering their situations. A terrific sequel that has a groove that's all its own with its four leads going in different directions that eventually spins out of control. A razor-sharp and wickedly entertaining edge of your seat crime movie. It's vivid, inventive, utterly cool and very effective. A tough, crackling and well-executed thrill-ride that stands next to the original just fine, its not a superior sequel but works well and adds the right amount of flavor. Director, Babak Najafi brings the characters new challenges and makes you feel more for them and dazzles us with exciting action, tense moments and raw energy. The cast is truly fantastic. Joel Kinnaman is electrifying he is truly on his way stardom, he has the looks, charisma and energy to be one of the greats. Mattias Padin is excellent. Dragomir Mrado is outstanding. Fares Fares is terrific.
Easy Money: Hard to Kill Quotes
There are no approved quotes yet for this movie.