Easy Rider
(1969)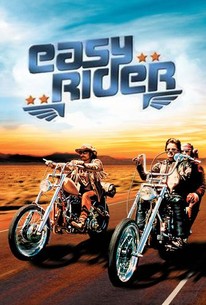 Movie Info
After scoring cocaine in Mexico, then re-selling it in California, two bikers set off on a cross-country trek to New Orleans.
News & Interviews for Easy Rider
Critic Reviews for Easy Rider
Audience Reviews for Easy Rider
Captain America: No, I mean it, you've got a nice place. It's not every man that can live off the land, you know. You do your own thing in your own time. You should be proud. "A man went looking for America. And couldn't find it anywhere..." Easy Rider is the quintessential hippy movie. It does the best job of any film I've ever seen at summing up the hippy state of mind and the hippy experience. The acid trip scene in this film is the best tripping scene ever filmed in my opinion. It's actually the only time I've seen a movie that gets the acid trip right. Two biker hippies make a big cocaine sale and then leave L.A. for a cross country road trip to New Orleans for Mardi Gras and then to their retirement in Florida. Along the way they pick up a couple of interesting characters, spend a little time in jail, smoke marijuana, and deal with the anti-long haired hippy stereotypes of the south. The cast is pretty good here with Peter Fonda, Dennis Hopper and an excellent performance from Jack Nicholson. This is as anti-establishment as movies come and Dennis Hopper's direction is great. This is certainly a movie for those who have a similar view on life as that of the hippie generation. The fact that I'm a modern day hippy(if I get enough sticky) makes this film all the more enjoyable and also all the more infuriating. Terrific movie.
Melvin White
Super Reviewer
The story of two rogue men, choppers on the open road with cocaine in their gas tanks, struck a chord with America in the waning sixties, when turmoil from war, poverty, and rioting in the streets caused uproar from the population. Peter Fonda and Dennis Hopper play two misfits who are judged by those around them, and their only whim seems to be for the freedom to be who they want and to do what they want. Sure, they do illegal things, indulge a bit too much, but they're wild, they're free. They live on the road, sleep in the brush, and do whatever they want, with malice or love. Surprisingly the story also deals with the prejudice exacted from those in the Deep South who find their hair, their clothes, and their lifestyle, to be against what is right and American. The extent of that hatred runs deep, makes the story all the more amazing, and makes them caged by adversity and disapproval. It's just a very freeing and beautiful film, made all the more interesting by the great performances by Hopper, Fonda, and a supporting role for Jack Nicholson as a lawyer with a twisted sense of humor.
Spencer S.
Super Reviewer
So much has already been said and written about this film to it's pretty hard to add anything new without inevitably rehashing cliches. Yes, it is a genuine classic, and one of the best/most important/most influential of all time. Now, that being said, when looking at this plot-light road movie about two hippie bikers driving motorcycles across the American Southwest in search of America/the American Dream solely as a MOVIE, it's honestly not all that good, and doesn't hold up as well. As a slice of life glimpse into the death of 60s idealism and the counterculture, and as an experience/cultural and historical milestone, then yeah, it's rock solid. Filled to the brim with groundbreaking aesthetics, style, and one of the most killer soundtracks ever, this truly is mandatory viewing. Oh yeah, and the iconic performances and message don't hurt either.
Chris Weber
Super Reviewer