Easy Wheels
(1990)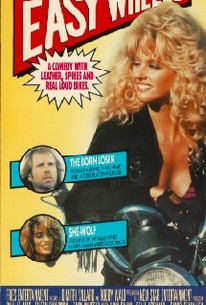 AUDIENCE SCORE
Critic Consensus: No consensus yet.
Movie Info
Advertised as a parody of cheapo-sleazo biker flicks, Easy Wheels looks so much like the real thing that one wonders whether or not we were originally supposed to take the whole megillah seriously. Biker Bruce (Paul Le Mat) and She Wolf (Eileen Davidson) forget their mutual animosity long enough to plan a mass abduction of female babies. The idea is to create a race of super biker chicks, who will enslave mankind and set up a leather-jacketed matriarchy. Bruce isn't completely sold on this idea and bides his time until he gets a chance to undermine She Wolf. Filmed in glamorous Des Moines and Dubuque, Easy Wheels makes all those American-International flicks of the 1960s look like the collected works of Antonioni.
Critic Reviews for Easy Wheels
Audience Reviews for Easy Wheels
½
All right, you Raimi fanboys, you've seen Spider-Man, you've probably seen The Evil Dead, you might've seen The Quick & The Dead, and there's even a slim chance you've seen Crimewave. But I bet you've never seen Easy Wheels! That's right, our man Sam co-wrote this tongue-in-cheek biker comedy under a pseudonym, his brother Ted has a very small part by making faces as a bartender, and his Xena: Warrior Princess co-creator Rob Tapert served as co-producer. Problem is, they didn't really hire the right director(s). The pacing is awkward and the gags often don't have the proper timing to really do this goofy story any favors. Didn't I mention? Biker Paul "You Want A Knuckle Sandwich?" LeMat of American Graffiti fame has visions, thanks to a hunk of metal lodged in his head from Vietnam, and leads his gang The Born Losers to Iowa to stop a biker gang of women from kidnapping baby girls and leaving them in the forest to be raised by wolves, just as their leader had been. See, it's that kind of movie. I got a kick out of the entire movie taking place "east of Des Moines, south of Dubuque." Most of the landscape could substitute for Iowa with the long lonely roads and cornfields, but the terrain grew a little too rugged towards the end. Some funny lines - for instance, we learn one of the perks of being in a biker gang means never having to wash dishes - and situations sorely needed an extra jump-start of energy to really deliver a cult classic along the lines of Crimewave. But hey, the full Raimi experience isn't complete without watching it.
Doctor Strangeblog
Super Reviewer
Easy Wheels Quotes
There are no approved quotes yet for this movie.