Eating Raoul
(1982)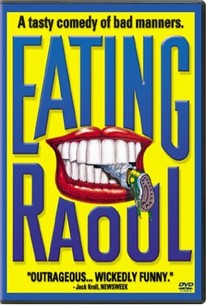 Movie Info
Eating Raoul was celebrated at the time of its release as the perfect marriage between mainstream moviemaking and the so-called "underground" cinema. Cult-film icons Mary Woronov and Paul Bartel (both of whom directed) play a married couple who decide to cash in on the sexual perversions of others. Posing as a hooker, Woronov lures the "johns" in and indulges their every kinky whim, whereupon Bartel kills the unwary client, steals the valuables, and sells the corpse for dog food. Though they see nothing wrong in what they're doing, they react in prudish disgust at the sexual preferences of their victims. Eventually, Raoul (Robert Beltran), the fellow who transports the corpses to the dog food concern, proves expendable--and extremely edible. Eating Raoul features a high-powered comic supporting cast, among them Buck Henry, Ed Begley Jr., Richard Paul, Hamilton Camp, and Edie McClurg.
Critic Reviews for Eating Raoul
Audience Reviews for Eating Raoul
Kevin Cookman
Super Reviewer
This movie had such a mystique about it that it could not live up to the expectations I had, but now I can say I have at least watched it.
Thomas Johnston
Super Reviewer
A very funny cult movie, I really liked it, the story is really good too.The only thing I didn't really like was the ending, but still, I highly recommend it.
Eating Raoul Quotes
There are no approved quotes yet for this movie.