Echelon Conspiracy
(2009)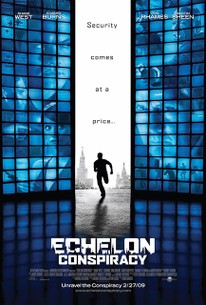 Echelon Conspiracy Photos
Movie Info
A young American engineer comes into possession of a cell phone that bestows unlimited wealth upon him, never realizing the danger posed to him by the device until security agents close in and start shooting to kill. Now, as a frantic chase across the continents gets under way, the stability of the entire world hangs in the balance. Shane West stars in a globe-trotting action thriller featuring Ving Rhames, Jonathan Pryce, and Martin Sheen.
Critic Reviews for Echelon Conspiracy
Audience Reviews for Echelon Conspiracy
For the first 40 minutes, I was mesmerized by this film. The beginning was as thrilling and intriguing as any film I'd seen all year, but after that, the big secret is revealed and it became almost a shot for shot remake of Eagle Eye. It was seriously ridiculous how the two stories became almost exactly alike. Realizing this, the writers decided to throw in a big twist at the end, that might have saved the film had it made even a single bit of sense. Echelon Conspiracy begins with computer programer, Max Petersen (Shane West), anonymously receiving a brand new, state of the art, cell phone in the mail. The phone gives him instructions which lead to him winning a lot of money. Everything is going great for Max, until he disobeys the phones wishes and the FBI shows up. Shane West was fantastic in this film, it really makes me wonder why he doesn't do more stuff like this. West seems to prefer romantic dramas, but is clearly missing his true calling. After seeing a performance like this, I'd easily put him at the top of the list for any major action film. West was paired in this film with Edward Burns who was terrific and Ving Rhames who was Ving Rhames. I say that, because sometimes he's the perfect fit for a role and other times, he couldn't be more out of place, a perfect example of which is his role in this film. As I said, this movie starts out great, but becomes exactly like Eagle Eye, I would venture to say that the two films are so much a like that the producers of Eagle Eye have a case for copyright infringement, it really was that close. Besides that, the film was a decent action film, with some nice performances. Had I not seen Eagle Eye, I may have thought more of this film, but as it stands, Echelon Conspiracy is just another low budget rip off of a semi-decent major motion picture and not much else.
Todd Smith
Super Reviewer
I actually like this movie more than the similar plotted Eagle Eye. The acting was much better. In general a world setting is more believable than an U.S. only setting like in Eagle Eye and more interesting. The threat was more believable also. I am gay and will say Tamara Feldman was HOT in her role and kept my attention much more so that the Eagle Eye "heroin"!
Thomas Johnston
Super Reviewer
½
What starts as an intriguing thriller quickly devolves into just another movie where suddenly everybody is some sort of covert spy and things blow up. That's okay but if you're looking for anything the least bit original look elsewhere.
Echelon Conspiracy Quotes
| | |
| --- | --- |
| Mueller: | It is the seemingly harmless traces we leave behind that later can be used to destroy us. |
| | |
| --- | --- |
| Yuri Malanin: | It seems we were able to help the Americans make the right decision. At least for now. |
| | |
| --- | --- |
| Raymond Burke: | You now the three most important words in politics? Don't get caught. |
| Raymond Burke: | You know the three most important words in politics? Don't get caught. |