Ed Gein
(2001)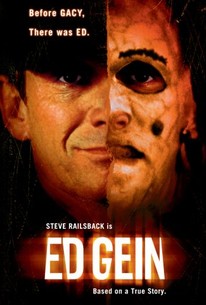 Movie Info
By day, Ed Gein was a quiet man who kept watch over the farm left to him by his late mother in Plainfield, a small rural community in Wisconsin. But by night, Gein was one of the most bizarre and dangerous psychopaths in recorded history. Raised by a violent alcoholic father and a mother with an obsessive fear of sin and hatred of sex, Gein had very few friends, and after the death of his parents, Gein was left to his own devices on the family farm (where, under a government subsidy program, he was paid not to grow crops), and his unhealthy obsessions eventually became ugly realities. Gein's crimes included murder, necrophilia, cannibalism, and grave robbing, with Gein using the flesh and bones of his victims to construct household objects, including a suit and mask made from human skin that Gein used when he wanted to dress up as a woman (it's been suggested that some of Gein's crimes stemmed from a twisted attempt to deal with his desire to change his gender). In 1957, two murders committed by Gein attracted the attention of the police, leading to Gein's arrest; near the end of that year, he was declared criminally insane and was committed for life to Wisconsin's Waupan State Hospital, where he stayed until his death in 1984. Gein's grisly story inspired a number of horror films, including Psycho, The Texas Chainsaw Massacre, and Deranged, but Ed Gein is the first feature based strictly on the facts of Gein's case, using his real name as well as those of most of his victims. Ed Gein stars Steve Railsback in the title role, with Carrie Snodgrass as his mother Augusta, and Sally Champlin and Carol Mansell as two of his victims.
Critic Reviews for Ed Gein
Audience Reviews for Ed Gein
½
America's first Serial Killer Ed Gein was no doubt a very disturbed man. This film is by no means for the weak stomached as although some of it's content can be seen on many Horror style films, the fact that this was based on real people however adds to the eerieness to this dark film. Ed Gein hears instructions from beyond the grave from his God fearing Mother, of whom he was obsessed with. The film seems to tie up with a lot of the facts that I've read up on and shows Gein's fascination of body snatching, ressurection and cannibalism. This story was the inspiration to many films you see today, including Psycho, Texas Chainsaw Masacre and The Silence of the Lambs.
Lady D'arbanville
Super Reviewer
Ed Gein Quotes
There are no approved quotes yet for this movie.