Ed Gein: The Butcher of Plainfield
(2007)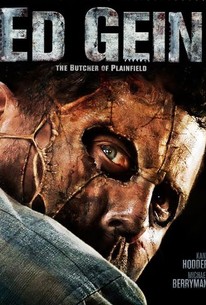 AUDIENCE SCORE
Critic Consensus: No consensus yet.
Ed Gein: The Butcher of Plainfield Photos
Movie Info
Friday the 13th mainstay Kane Hodder stars as the true-life serial killer whose unspeakable atrocities inspired such classic horror films as Psycho and The Texas Chainsaw Massacre in director Michael Feifer's disturbing frightener. Rural Wisconsin was a quiet place until the man they called "The Butcher of Plainfield" began his rapid descent into madness. In the months that followed mysterious murders and a series of shocking grave robberies would make headlines all across the country. With this film, fans can finally find out just what it was that transformed a timid, child-like farmer into one of the most abhorrent figures on the annals of American crime.
Critic Reviews for Ed Gein: The Butcher of Plainfield
All Critics (1) | Fresh (0) | Rotten (1)
Perhaps the least faithful biopic ever made. Even if more suitable actor had been cast, it wouldn't have been enough to save the film. The script is just bad, the acting all around is horrendous and so is the whole production.
Audience Reviews for Ed Gein: The Butcher of Plainfield
Thought this would be awesome cause it basically was telling the true to life story of serial killer Ed Gain which the Texas Chainsaw Massacre killer Leatherface was loosely based on. Ummmm no it was really bad with nothing scary at all going on here.
½
It's shot well, the acting is mostly competent (even if the characters are not) and the pacing keeps it from being a complete bore. The problem with this film is it's inaccuracies. I'm all for dramatic license, but what's the term for changes that make a story less interesting? By reading up on the real Ed Gein on any website, you will get more chills and a general feeling of nausea and discomfort. This film offers none of that. The only reason for these changes are out of pure laziness and the want to cash in on a big name. However, in a film where Kane Hodder is cast as Gein what did I expect? I must gives props to Hodder who actually gave a good performance, it just wasn't the right performance for Ed Gein.
Luke Baldock
Super Reviewer
½
I am sure that in 1957 these gruesome murders did shock the world, and we thought Hannibal Lector was bad. If all that they showed in this movie were true (Most Based on a True Story, Lack the true Details), then old Ed was a pretty sick person. I am wondering just how sick I am for watching it, hummm. But as far as a review, not often I have to turn my head in a movie, but did on this one, the scenes were pretty graphic and having had a large number of bones broken over my life time jumping into jungles and trees from perfect flying aircraft, it just reminded me of pure pain. As far as the movie, wouldn't add it to any collection, wouldn't see it again, and wouldn't go to the dollar theater to see it, best I can do is 2 stars on this one.
Bruce Bruce
Super Reviewer
Ed Gein: The Butcher of Plainfield Quotes
There are no approved quotes yet for this movie.