Eddie and the Cruisers
(1983)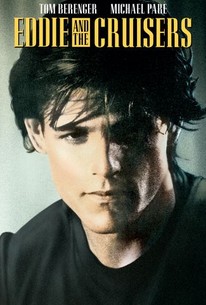 Eddie and the Cruisers Photos
Movie Info
A television reporter decides to investigate the legendary death of the lead singer of Eddie and the Cruisers, a 1960s one-hit wonder, in this rock-flavored drama. Her questions trigger a former band member to search for the group's lost second album, discovering other long-kept secrets along the way.
Critic Reviews for Eddie and the Cruisers
Audience Reviews for Eddie and the Cruisers
One of those movies that has flaws, but is so simple and endearing that it sticks with you. I would recommend for the soundtrack alone
Spencer Macklin
Super Reviewer
½
Eddie Wilson (Michael Pare) was the lead singer of "Eddie & The Cruisers", an on the rise rock band in the early 1960s that played late 1970s/1980s style music. They cut one successful album, "Tender Years", which featured the hit song "On The Dark Side", and it looked as though Eddie (and his band) had overnight fame & fortune almost within his grasp, but Eddie could not see beyond his own arrogance to recognize and accept the fact that if he wanted to be in the spotlight, he would have to play by certain rules, and at times could mistreat his band mates, even lyricist/piano player Frank "Word Man" Ridgeway (Tom Berenger). Following the death of their original sax player and the rejection of their 2nd album, "A Season In Hell", rejected because the style of music was dismissed as little more than "weird noises", Eddie apparently committed suicide, driving his car off the bay docks... but since his body was never found, an urban legend formed around him. Years later, in the early 1980s, Eddie's music has experienced a resurgence in popularity & appreciation when his old record label re-releases the Tender Years album, and a debate is sparked as to what happened to the lost performance tapes and recordings of the "Season in Hell" album. Then someone starts ransacking former band members homes in a desperate search for those tapes... could it be Eddie? In the midst of this, more about the band's tragic downfall comes to light. All in all, a well made, well acted film that speaks for all those rock singers who almost had it but for whatever reason couldn't hold on. Michael Pare (in the role that should have made him a star) is well cast as Eddie Wilson, the charismatic but self-destructive rock singer, though the true star is Tom Berenger as the lyricist who must uncover the truth of it all. Excellent showcase for the music of John Cafferty (Eddie's singing voice) and the Beaver Brown Band
David Ladd
Super Reviewer
This movie is one of my ALL TIME favorite movies. I loved the whole entire film, and the very end of the movie made me jump out of my chair (in 1984 when I first saw it). The music in this movie was so outstanding that I had bought the album and wore it out! Michael Pare will always be Eddie to me, no matter whatever movie I have seen him in since. The second movie was pretty good, too. I was thrilled to see them wrap up the story like they did. That was a very good idea to follow up such an awesome movie.
Cynthia S.
Super Reviewer
Eddie and the Cruisers Quotes
There are no approved quotes yet for this movie.