Eddie and the Cruisers II: Eddie Lives!
(1989)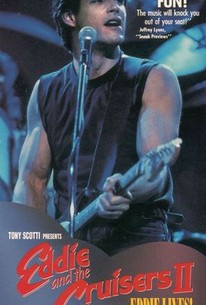 AUDIENCE SCORE
Critic Consensus: No consensus yet.
Eddie and the Cruisers II: Eddie Lives! Photos
Movie Info
Twenty-five years after his mysterious disappearance, rocker Eddie Wilson experiences a sudden resurgence in popularity, thanks to the discovery of a previously unreleased recording. The acclaim causes the real Eddie, who has been living under an alias, to reembark on his musical career in this sequel to the 1983 drama.
Critic Reviews for Eddie and the Cruisers II: Eddie Lives!
All Critics (3) | Top Critics (1) | Fresh (0) | Rotten (3)
The belated 1989 sequel Eddie And The Cruisers II: Eddie Lives! is clunkier than the original, and still more fun than it has a right to be.
Just when you thought it couldn't get any worse than the grueling Eddie and the Cruisers, along came this 1989 sequel.
Audience Reviews for Eddie and the Cruisers II: Eddie Lives!
In this sequel to the original. Eddie has been hiding out in Canada for twenty five years, cleverly disguised to look like Robert Goulet, while everybody back in the lower 48 who loved his music thinks he's dead. He has a good day job in construction, where he seems to be a foreman, but even after so many years, music still calls to him. Around the same time, his old record company is reviving his 1960's music, so you can see very early on where this is going. The film gives Eddie a love interest in the person of an artist who approaches him on the street, asking if she could paint his portrait because his face is so intriguing -- that of a guy forever looking for something he can't have, she says. She's not a big success as an artist, although she certainly has an expensive wardrobe, hairdo, and apartment. But she's there for Eddie when he needs her. For his part, Eddie likes her well enough to get jealous when she dances with another guy, so you can see where this is headed too. Mysteriously, he starts out with just a lead guitarist, but the rest of a band comes together when he calls, even though they don't recognize Eddie under the Goulet hair and mustache, nor do they recognize the old Eddie voice or music riffs. And equally mysteriously, they just accept his moods and dictatorial manner. So they practice and practice, and eventually (you knew this was coming, right?) they take on some live gigs. Eddie's problem, as the girl recognized on the street, is that he doesn't just love music -- he's searching for musical perfection. Since this all must take place in a parallel universe, he doesn't realize that there isn't much perfection in rock & roll (how could you ever know if you screw it up or not?), but he keeps on trying for it, getting angry and moody when it eludes him. This brings us to the ultimate mystery here -- why do artist girl and the boys in the band put up with him? Like some Hollywood musicals of the 30's and 40's, without a great plot or really believable characters a film like this lives or dies on the music it offers, and fortunately, the music in this one is pretty good. It channels Bruce Springsteen and the E Street Band very effectively. Even though this was made in the 80's, there is no disco, no rap, and none of what passes for music today. It's pretty much straight Springsteen, with occasional flashes back to the simpler Rock of the early 60's. I found it to be a fun sequel. Not as good as the original of course but as good of a sequel that could be done to a film that didn't need one.
David Ladd
Super Reviewer
I really enjoyed this. I am glad that they finally put a nice finish to this story.
Cynthia S.
Super Reviewer
½
It was watchable, a couple songs in this were really awesome.
Marion Ravenwood
Super Reviewer
Eddie and the Cruisers II: Eddie Lives! Quotes
There are no approved quotes yet for this movie.