Eddie Murphy Raw
(1987)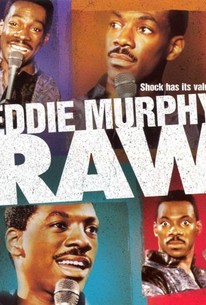 Movie Info
Filmed in front of a packed New York City crowd, the concert film Eddie Murphy: Raw presents the comedian (near the height of his popularity) performing his standup material. The energetic and often extremely raunchy set begins with a series of impressions, most involving some celebrity becoming upset at Murphy for unflattering jokes: a squeaky-voiced Michael Jackson threatens to pummel Murphy into the ground; an enraged Mr. T is confused by Murphy's verbal sleight of hand; and even paragon of calm Bill Cosby loses his cool while chastising the comic for his dirty mouth. After some digressions finding humor in racial differences and other matters, Murphy proceeds into the centerpiece of his act, a series of routines about contemporary relationships between men and women, including an extended bit about what life would be like were he to become married -- jokes that some have criticized as heavily misogynist. Finally, Murphy concludes his set with an extended, comedic but sympathetic, reminiscence about his childhood and family life, a tone that matches that of the film's prologue -- a fictional re-creation of Murphy, in his childhood, entertaining a family gathering with what turns out to be an inappropriately off-color joke.
Critic Reviews for Eddie Murphy Raw
Audience Reviews for Eddie Murphy Raw
½
Eddie Murphy: I'm sadistic. I go to the supermarkets to watch mothers lose it and beat the shit out of their kids.  "Catch him in the act. Uncensored Uncut Irresistibly..." Eddie Murphy Raw is classic Eddie Murphy. It's a standup concert filmed live in New York, where Murphy does his usual sex jokes and impersonations. Overall, the movie is a good time and has plenty of hilarious moments. I'm not going to go out on the ledge and say that this is the best standup I've ever seen or that Eddie Murphy is the best comedian ever, but he is very good. He has a stars presence on stage just as he does on the screen.  I guess there could be plenty of reasons to not like Raw if you don't want to. The jokes may be tasteless, immoral, obscene, and whatever else you want to call them; but their also good. This isn't something you'd want to show to your 11 year old son or daughter, but for adults, this comedy works and it works because of Murphy's confidence in what he's saying.  As far as these stand-up movies go, Eddie Murphy Raw is a classic. Murphy has influenced many comedians with his fast talking, hyper paced shows. He knows what will make people laugh and he executes his jokes perfectly. Well worth a look if you think classic Murphy is funny. 
Melvin White
Super Reviewer
I miss this Eddie Murphy.
Tim Salmons
Super Reviewer
Extremely vulgar (it holds the record for most f-bombs in a film from the 1980's), but extremely hilarious, insightful, and entertaining as well. I miss the old Eddie Murphy. This films is a great reminder of how brilliant and funny he once was. It's definitely worth watching.
Chris Weber
Super Reviewer
Eddie Murphy Raw Quotes
There are no approved quotes yet for this movie.