Eddie The Sleepwalking Cannibal
(2013)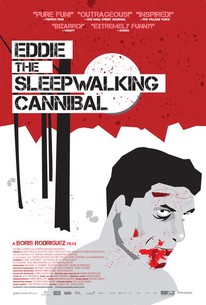 Eddie The Sleepwalking Cannibal Photos
Movie Info
Thure Lindhardt (Keep the Lights On) stars in this quirky dark comedy as Lars, a former darling of the art scene slipping away into the land of has-beens and struggling with lack of inspiration. His art dealer Ronny arranges a teaching job in a small town as a "therapeutic measure" to stir up some creative juices, but things never turn out quite as planned. At first, life in the peaceful small town seems rosy, as the young man settles in and impresses beautiful fellow colleague Leslie, by taking in the brawny, mute Eddie after the latter's caregiver passes away. But Lars soon discovers that the façade of serenity hides something unimaginable: Eddie suffers from a rare form of sleepwalking that transforms him from docile, cereal-obsessed art student into ravenous sleepwalking cannibal craving fresh meat. Initially horrified by Eddie's dark secret, Lars becomes enthralled by the not-so-gentle giant: at long last, here's the muse he'd been searching for high and low! Exceptional art does indeed come at a very high price, even the cost of human lives...and how far is Lars willing to go for his next masterpiece?
Critic Reviews for Eddie The Sleepwalking Cannibal
Audience Reviews for Eddie The Sleepwalking Cannibal
MisterYoda ?
Super Reviewer
½
A fun little black comedy starring Thure Lindhardt. Eddie the Sleepwalking Cannibal is about a Danish artist who was forced to take care a mentally challenged man, it turns out the man is a sleep walking cannibal. However, the killings inspires the artist to paint amazing paintings. Eddie the Sleepwalking Cannibal is quirky, gory and tons of fun. Despite having only a small budget, every cent was well spent. The performance by Lindhardt and Smith is just simply remarkable.
Sylvester Kuo
Super Reviewer
Eddie: The Sleepwalking Cannibal is a pretty creative low-budget comedy horror tale that relies on an interesting idea. Sometimes all you need is the basics to create a fun and entertaining g movie that is memorable and worth seeing. This is the case with this one. I found this film to be one of the most entertaining low-budget horror yarns since Rubber directed by Quentin Dupieux. Although the film could have been better than what it turned out to be, there is enough good material on-screen to make it a worthwhile viewing experience for horror fans. This is a good film with plenty of wonderful performance and despite a few lacking aspects of the film, there's always something to keep you involved, and one of the main reasons is the performance of Dylan Smith in the titular role. The film is humorous and entertaining, and this is among the better low-budget horror films in recent memory. Even with all its flaws, this is a good little flick to watch if you want something original and refreshing. The cast are good in their parts and with a strong lead in Dylan Smith; you have a well constructed movie that goes above its flaws to be a pleasant film going experience. The sheer ridiculousness's of the plot makes this a film to delight fans of the genre and it's a rare gem of a picture that uses creativity to go beyond its budgetary constraints to create something watchable and good. Director Boris Rodriguez has scored a fine little hit with this one and it's darkly humorous and has hints of old school horror with gore. This is what makes Eddie: The Sleepwalking Cannibal a fun ride from start to finish, and in a genre that remakes are dominate, a film like this is a necessity.
Eddie The Sleepwalking Cannibal Quotes
There are no approved quotes yet for this movie.