The Eddy Duchin Story
(1956)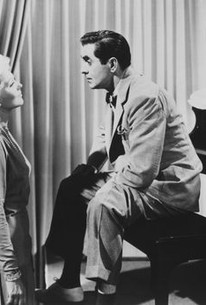 AUDIENCE SCORE
Critic Consensus: No consensus yet.
The Eddy Duchin Story Photos
Movie Info
Tyrone Power stars in this tear-jerking biography of the beloved but short-lived pianist and bandleader Eddy Duchin. Boston-born Eddy Duchin (Tyrone Power) moves to New York City to pursue a career as a pharmacist. However, Eddy is also a skilled piano player, and when he meets pretty socialite Marjorie Oelrichs (Kim Novak) who hears him play, she encourages him not to short-change his musical abilities. Marjorie helps get Eddy a job playing at the Central Park Casino; his playing goes over well with the crowd, and Eddy goes over well with Marjorie. Able to support himself full-time with his music, Eddy asks Marjorie for her hand in marriage; she accepts, and soon Marjorie is expecting a child. Tragically, she dies while giving birth to their son Peter; Eddy, shattered by the experience, finds himself unconsciously blaming Peter for Marjorie's passing, and leaves the boy behind with his family and their nanny, Chiquita (Victoria Shaw), while Eddy and his manager Lou Sherwood (James Whitmore) head out for the first of many lengthy world tours. Years later, while serving in the Navy during World War II, Eddy realizes the error of his ways, and begins a long and difficult reconciliation with Peter (Rex Thompson), while falling in love with Chiquita. Eddy and Chiquita marry and budding pianist Peter joins Eddy on stage for an emotional duet; however, Eddy's new contentment with life is cut short when he contracts leukemia. Pianist Carmen Cavallaro dubbed in Duchin's piano parts for non-musician Tyrone Power.
Critic Reviews for The Eddy Duchin Story
All Critics (3) | Fresh (1) | Rotten (2) | DVD (1)
Blah biopic
August 13, 2005 | Rating: 2/5
Good production values and melodic music partly compensate for George Sidney's sentimental and cliche biopic of the noted composer, played by a miscast Tyrone Power.
Audience Reviews for The Eddy Duchin Story
I saw this on TV, so I didn't see the beginning, but I really liked the rest of the movie. The cast is good, and the story interesting, even though I'd never heard of Duchin before.
The Eddy Duchin Story Quotes
There are no approved quotes yet for this movie.