Edge of Fear
(2018)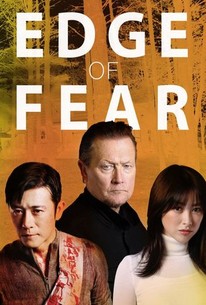 AUDIENCE SCORE
Critic Consensus: No consensus yet.
Movie Info
A man is left to die in his own home when a group of attackers raid his property and stab him in the heart. To save his wife from these evil men, he has no choice but to defeat them himself. He'll need to pull off the impossible if he's to take them on with a knife in his chest.
Critic Reviews for Edge of Fear
All Critics (2) | Fresh (0) | Rotten (2)
The description for Edge of Fear looked intriguing and it was new on Netflix: I have now learned these alone aren't good enough reasons to watch a film.
Mediocre overall, but bad guy Robert Patrick is the stuff of a million home invasion nightmares.
Audience Reviews for Edge of Fear
I always assume that it was gonna be difficult for me to follow up The Night Comes For Us, the best pure action movie I've seen this year, with something equal to or greater than it was, at least fitting within that same framework. Maybe A Prayer Before Dawn would have done it, but I didn't watch that one (it is on Prime, so I definitely plan on it). At the same time, A Prayer Before Dawn feels like more than just a movie about an Englishman earning his freedom way from a notorious Thai prison through Muay Thai tournaments. I feel like this happens a lot, to me at least. I watch a great movie and the next movie after that, almost inevitably, ends up falling short. The last time I watched two great movies back to back, that I can recall, was Deadpool 2 and A Quiet Place. I don't know if it's a subconscious desire to not watch too many great movies in a row for fear of becoming spoiled, which is a little absurd if you really think about it. Regardless, at least when compared to the drop-off between Logan Lucky and Boo 2: A Madea Halloween (the latter being the worst movie I've seen in ages), this drop-off isn't as massive. I actually do very much like this movie's concept. Well, maybe I don't really like it, but it is a solid one. This newlywed couple, both doctors from China, visit a former patient of theirs (whose life they saved), for a wilderness getaway. At the same time, however, this group of five criminals bust this inmate out as he's being transported elsewhere. Is it called busting someone out when they're being transported?? ANYway, this group drives the bus off a cliff into a lake, before driving off to Mexico, which is the destination this inmate that paid for their services wants to go to. Before that, however, their van breaks down after their inside man shoots at them, when they betray him. So they walk into the wilderness before coming across Mike's house. Mike is the patient that Patrick and Laura saved. Long story short, it becomes a home invasion thriller, as the criminals find their way to Mike's house and force their way in. Mike is murdered and Patrick is stabbed in the heart, left for dead. The criminals take Laura hostage while they wait for their new ride to pick them up. The thing I like about this movie, however, is that Patrick, like I mentioned, was left for dead with a knife stuck to his heart. Patrick never takes the knife out as, being a doctor, pulling it out will mean that he bleeds out and dies far quicker. If he keeps the knife in, he's got far more time to take down the criminals and save his wife. And, I don't know why, but I like that as a concept. Patrick is working against the clock, quite literally, to save his wife. It's not necessarily unique, as 24 Hours To Live had a relatively similar concept, except that was a bit crazier, conceptually, when compared to this movie, which feels a little more down to earth. That's why it is such a shame, however, that the movie is so utterly dull as a home invasion thriller and, in a way, a revenge thriller. Patrick is an incredibly idealist doctor, the 'do no harm' type. In fact, he's such a 'do no harm' type that he is incredibly uncomfortable when Mike kills a deer while they're hunting. And, again, that's something that they could do something with, but I don't think they really explore Patrick's inner turmoil between doing what's right and going against every oath he has ever taken as a doctor. I obviously wouldn't blame anyone, doctor or otherwise, for doing what Patrick did in this same scenario, but, again, it's something that they could have used to give the film a little more oomph, but they really don't. Patrick doesn't really contemplates his actions before acting. Which makes you question why it was even a part of his character in the first place. Neither here nor there, I suppose, but it would have helped in giving the movie far more of a personality than it had. I just think the worst part of this movie is that there's no real tension to anything that is going on here. I never feel like Patrick or Laura are in any real danger, because it's all fake. I know, deep down, that every film I see is fake, with the exception of documentaries and, even then, some contain those famed alternative facts, like Dinesh D'Souza's right-wing conspiracy/propaganda documentaries. The point I'm trying to make, however, that I'm not immersed into the film and its characters, I don't buy anything that I'm seeing is genuine, because the movie makes no effort to truly get the tone and atmosphere that is essential to get a movie like this to work. And, like I mentioned, the movie is just dull to watch. None of the characters are interesting. The acting is fine, though Robert Patrick is always good as the villain, but nobody else really stands out in any way. I do like the climax, and you knew it was heading down this path, where Patrick has to pull the knife out in order to cut his wife free as the van she's in is burning. This is the only thing that really works to me in the movie. I just wish that Patrick and Laura had felt more like a newlywed couple for it to mean even more than it did, with Patrick, theoretically, making the ultimate sacrifice for the woman he loves. This is the very definition of a movie that just comes and goes without making any sort of impact. There's nothing spectacular about this movie to, ultimately, justify its existence and justify it me giving it a score higher than 2 stars. Because that's just what this is. This movie isn't terrible, I've certainly seen much, much worse, but the fact of the matter is that it has a few ideas that could have injected some life into the movie and they just refused to do it or, and this is the most likely option, there weren't enough skillful people behind the scenes to make its few interesting ideas into something more tangible than just ideas. With that said, this is a below average movie and there's no real reason to spend any time watching it.
Jesse Ortega
Super Reviewer
Edge of Fear Quotes
There are no approved quotes yet for this movie.