The Edge of Love
(2008)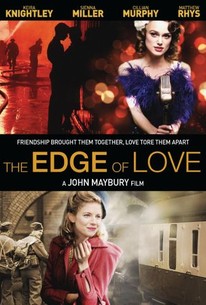 Movie Info
This beautifully drawn love story explores the bohemian underworld of war-torn London and the intimate complexities of two young couples whose lives and loves become dangerously intertwined.
News & Interviews for The Edge of Love
Critic Reviews for The Edge of Love
Audience Reviews for The Edge of Love
½
I'm no fan of Keira Rat-Face Knightley, but I have to say, she is photographed remarkably well in this movie. Her singing scenes are gorgeous with the shiny lipstick and stiff coiffure, the fuzzy Vaseline lens and the red, green, and blue filters. Her lip-syncing and singing expressions looked pretty convincing as well. Then I found out she sang her own songs! Well, color me impressed. Those musical numbers are easily the best parts of the movie. The twisted love...parallelogram is too subtle, too full of wist. There isn't much development on how exactly Vera and Caitlin become besties, what exactly went on between Dylan and Vera, why William becomes so disturbed.
Alice Shen
Super Reviewer
½
A well made film with a strong cast and good production values. Good use of cinematography and some good acting talent on show. I was very impressed with the Welsh accents. Anyone who thinks Sienna Miller is just a pretty face should see this, one of her best performances I have seen. Loosely based on true events around the relationships the poet Dylan Thomas had at the time of the second world war. Overall I'm not a big drama fan and it is a bit slow at times. If you like relationship dramas or any of the actors, this would probably be a 4 star film for you!
This is the type of film that one minute you hate it and the next minute your thinking this isn't bad, but never think this is swell or outstanding. The story itself is about Dylan Thomas and after watching this movie I give my father more credit as to why he hated the name Dylan. We are bombarded with Dylan Thomas pomes and lines in a World War II Bombing of England and Scenes of British solders in Greece. Dylan has his wife, also his childhood sweetheart that is married to a British Soldier who is fighting the war, but comes home with his troubles. You have to be an independent film lover to enjoy this film. 3 Stars
Bruce Bruce
Super Reviewer
The Edge of Love Quotes
| | |
| --- | --- |
| Dylan Thomas: | Not for the proud man apart from the raging moon I write on the spendthrift pages, nor for the towering dead with their nightingales and psalms, but for the lovers, their arms round the griefs of the ages. |
| | |
| --- | --- |
| Vera Phillips: | You don't even see me, do you? Dylan! All you've got is stories in your head. Words. And I have to feel real. William... makes me real. |
| | |
| --- | --- |
| Dylan Thomas: | I do it, sleep with other women... because I'm a poet, and a poet feeds off life. |