Edge of Madness
(2002)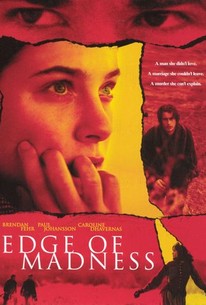 AUDIENCE SCORE
Critic Consensus: No consensus yet.
Movie Info
In remote Canada in the middle of the 19th century, 16-year-old Annie (Caroline Dhavernas) is taken from an orphanage by Simon (Brendan Fehr), a young Scot who needs a bride to help him settle his rural homestead. Upon arriving at the land Annie finds the cabin is only partially built -- they'll have to live in a tent -- and Simon's brother George (Corey Sevier) will also live there. As it happens, Simon proves to be a selfish, drunken brute who sexually abuses his young bride; George, a gentleman with an intellectual bent, can't stand to see the hateful treatment Annie undergoes at the hand of his brother -- because he's fallen in love with her. So when George returns from a hunting trip with Simon's dead body wrapped in a blanket, it doesn't look good and Annie panics even though George insists the death was an accident. A local constable, James Mullen (Paul Johansson), begins investigating after locking up Annie for safekeeping.
Critic Reviews for Edge of Madness
All Critics (2) | Fresh (1) | Rotten (1) | DVD (1)
This gem of a murder thriller offers a rich and penetrating array of characters in a beautifully structured drama that never relaxes its grip or its passions.
Audience Reviews for Edge of Madness
This is not an easy film to watch. Life on the frontier is hard enough in the best of times and with people who behave with a measure of compassion toward each other. When the husband you thought would rescue you from a bleak life in an orphanage turns out to be a sadistic brute, and his brother is a sensitive dreamer, then the outcome is more or less obvious. However, the acting by Caroline Dhavernas as the young wife, Annie, and her fearlessness in a difficult role rescued this from melodramatic drivel. The scenery was bleak, the rest of the cast proved competent, with only the affectations of some pretty lame accents to spoil the atmosphere. There is brutality, but for the most part we hear it rather than see it. There is tenderness as well, and when Annie smiles, the room lightens.
Mark Abell
Super Reviewer
Edge of Madness Quotes
There are no approved quotes yet for this movie.