Edge of Winter
(2016)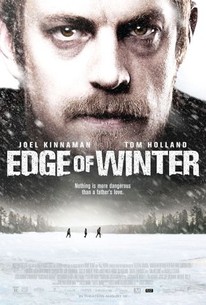 Movie Info
Recently divorced and laid off from his job, Elliot Baker (Joel Kinnaman) is desperate to spend more time bonding with his sons, Bradley (Tom Holland) and Caleb (Percy Hynes White). What starts as family day trip to teach his boys how to shoot turns into a nightmare when they become stranded. As they retreat to a desolate cabin, Elliot's mounting fear of losing custody pushes him to the edge. The brothers quickly realize that the man responsible for keeping them safe has now become their biggest threat.
News & Interviews for Edge of Winter
Critic Reviews for Edge of Winter
Audience Reviews for Edge of Winter
½
Has potential, but doesn't really go anywhere.
Stephen Skudlarek
Super Reviewer
What is it with future superhero actors and winter movies? Granted, I only have three examples (J-Law in "Winter's Bone", and Tom Holland/Joel Kinnaman in this). So, maybe don't set your watch by that. However, while "Edge of Winter" maintains a much more straightforward narrative than "Winter's Bone", it certainly keeps the same style of tension. Joel Kinnaman runs through a slow-burning but climactic arc in an attempt to hold on to his anger, masculinity, and fatherhood - which are all inextricably linked. It is an interesting character study that only occasionally reveals any cracks in his performance. The film is short enough that if I went into much further detail I would give away the plot, if that is any testament to how quickly it seems to rush by. The Canadian wilderness looks to be a popular place to shoot these days, no doubt because it is a beautiful, bleak landscape in which to lose sometimes thinly drawn characters. Fortunately, this small cast managed to make a convincing trudge through the horrors of the psyche and the callousness of survival. As a final note, I couldn't help but think Tom Holland looks like a less douchey Josh Hutcherson.
K Nife Churchkey
Super Reviewer
Edge of Winter Quotes
There are no approved quotes yet for this movie.