Edmond
(2005)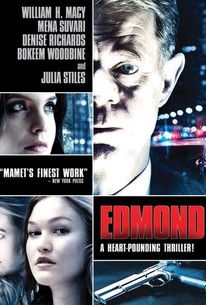 TOMATOMETER
AUDIENCE SCORE
Critic Consensus: Despite an electrifying performance by William H. Macy, David Mamet's one-act morality play translates poorly into a film that is overburdened by dialogue.
Movie Info
An encounter with a fortune-teller leads businessman Edmond to confront the emptiness of his life and marriage. Appalled, he flees into the vortex of the city's underbelly, plummeting into a free fall he mistakes for liberation. To Edmond's surprise, it's dark outside: hookers charge, pimps are violent, and the guy on the corner is a conman. Edmond is robbed, beaten and left bewildered. But there's a strange comfort at the bottom. Exhilarated by a random act of violence, Edmond picks up a waitress, Glenna, but their riotous sex play leads first to conflict and then to murder. With nothing to lose but his liberty, Edmond spirals further out of control, towards prison, disintegration and a very brutal redemption.
News & Interviews for Edmond
Critic Reviews for Edmond
Audience Reviews for Edmond
Cast: William H. Macy, Julia Stiles, Joe Mantegna, Rebecca Pidgeon, Ling Bai, Denise Richards, Mena Suvari, Debi Mazar, Jeffrey Combs, Dulé Hill Director: Stuart Gordon Summary: With a David Mamet play as its inspiration, Edmond stars William H. Macy as the titular character, a businessman who undergoes a personal revolution after he heeds a psychic's call to change his life. In his quest for fulfillment, he abandons his wife and children, initiating a nightmarish descent into a certain kind of hell, a dark and dangerous world he's never known but that may wind up owning his soul. My Thoughts: "This film is pretty brutal in it's words and actions. I personally didn't like the film for those reasons. But I will say it was pretty gratifying that Edmond Burke, in the end, became everything he hated and despised through the film. Also William H. Macy, although plays a hugely unlikeable character, did put in a great performance."
♥˩ƳИИ ƜѲѲƉƧ♥
Super Reviewer
½
Not terrible. I think David Mamet is a pretty good writer, but a lesson in the meaning of life mixed with gay prison sex and senselessly killing Julia Stiles may not be the best stage for it. Then again, it would have been a pretty dull film otherwise. William H. Macy plays the only character he knows how: a douche bag who stammers out lies to everyone while having a total meltdown. Fine with me! Especailly when he's weilding a WWI survival knife with brass knuckles beating a mugger to death.
Curtis Lilly
Super Reviewer
Mamet? Brother. The word "ponderous" comes to mind. That's not good, by the way. "Embarrassing" also seems appropriate. Ah, I have my off times too.
When weak writing and weak directing combine to undermine a project, there's rarely any escaping the vortex leading into the abyss.
Acting to the rescue? When the foundation is this feeble, the acting has to be strong to hold the project together. Unfortunately, this isn't the case.
Have I ever mentioned that I think William H. Macy is a very lucky actor? If not, just let me say that Macy puts on a full display of his acting ability in this one. To survive, he has to play to type. He is surviving. It's a borderline miracle.
Can you imagine what someone like Jack Nicholson could have contributed to this piece of borat?
Lanning : )
Super Reviewer
Edmond Quotes
There are no approved quotes yet for this movie.