EDtv
(1999)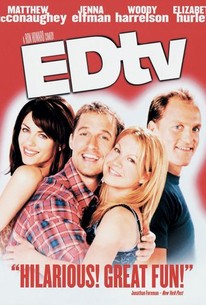 TOMATOMETER
AUDIENCE SCORE
Critic Consensus: If it's not as ambitious as The Truman Show in satirizing the voyeuristic nature of television, EdTV is an amiable, witty comedy with fine performances from Matthew McConaughey and Woody Harrelson.
Movie Info
The turning point in the life of Ed Pekurny (Matthew McConaughey) comes thanks to the misfortunes of the NorthWest Broadcasting Company. After two years on the air, their flagship cable channel, True TV, has slid into obscurity due to competition from the The Gardening Channel. Program director Cynthia Topping (Ellen DeGeneres) brainstorms a last ditch effort to save the channel: broadcast one ordinary person's life 24 hours a day, unedited (while he sleeps, the day's highlights will be shown). When the network agrees to the idea, Topping must find the subject of her program. After endless auditions, she lucks upon Ed, a goofy but good-looking video store clerk. Ed has little time to get used to his new shadow, a three man video crew, before the show becomes a hit. Suddenly Ed's a cultural icon with fan clubs, stalkers, and imitators, but the media saturation has it's effects on his friends and family, who are now part of the program. Ed alienates his proud brother, Ray (Woody Harrelson), by falling in love with his girlfriend, Shari (Jenna Elfman). His estranged father Hank (Dennis Hopper) reappears after abandoning the family and creates tension between Ed and Ray's mother, Jeanette (Sally Kirkland) and her wheelchair-bound second husband, Al (Martin Landau). When Ed realizes the phenomenon has turned on him, he convinces Topping to stop the ordeal, but not her boss, Whitaker (Rob Reiner). To regain his life, Ed must find a way to cancel EDtv.
Audience Reviews for EDtv
Mediocre film that could have been good, for me, EdTV reminds me way too much of The Truman Show. This is one of the most mediocre films that Ron Howard has directed. The film has its moments, but due to a poorly thought out script, it just doesn't have anything going for it. With EdTV, you can see a director starting to lose his touch. Although, he redeemed himself with A Beautiful Mind and Cinderella Man, Ron Howard is hit and misses, and with this one, he shows signs of that. The cast were so-so. Matthew McConauhey who I find to be a decent actor wasn't good here, and Jenna Elfman was horrible. This could have been a great film, but it just ends up missing something to really make it worth seeing. This is not a memorable film. Were the film fails is the fact I felt it went all over the place in some areas. Towards the end, the film didn't what it was trying to accomplish. I thought that Ron Howard could have done a better job at directing. The film just ends up being boring, and uninteresting. This had the potential of being a great flick, but due to a poor script, it never really takes off. Nowadays with Reality TV boom, it might have worked, and actually, it would have been a better film, today because there so many stupid Reality TV shows to mock and to take inspiration from. The film has minor laughs, but unfortunately it only shows its wasted potential here, and I think it's a shame. This film could have been a great parody of Reality TV.
When you read the overview of "EdTV," you might think that it's similar to "The Truman Show." But it's not, in my opinion, it's better. The difference is that in "EdTV," Matthew McConaughey volunteers to have his life broadcast on television 24 hours a day for the next month. After Ed gets with his brother's ex-girlfriend and the cameras get in the way of his life, he must find a way to get out of the camera's view. But that will be a lot easier said than done. Unlike you might expect it to be, "EdTV" is hilarious and it will keep you interested during the whole movie. The funniest part of the movie is when you find out how Ed will get his life off the television screen for good. If you like good comedy movies that have a great storyline, I recommend getting "EdTV" today. NOTE: That was my Amazon review from the year 2000. This is like a Truman Show ripoff (or was it vice versa?), but I don't care, I like this one better.
Jason Owens
Super Reviewer
½
I guess this movie is OK. I can't imagine anybody suggesting that watching one person's life would make good TV, but of course, the movie presents us with the highpoints of Ed's life - his relationship with his girlfriend and family.
EDtv Quotes
There are no approved quotes yet for this movie.