The Education of Charlie Banks
(2009)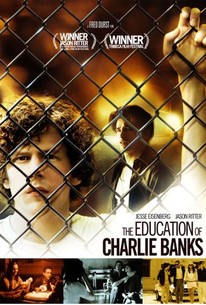 The Education of Charlie Banks Photos
Movie Info
"The Education of Charlie Banks" is a coming-of-age tale that spans from the playgrounds of lower Manhattan to the idyllic greens of Vassar College. It is a story about change, inevitability and about facing one's fears.
News & Interviews for The Education of Charlie Banks
Critic Reviews for The Education of Charlie Banks
Audience Reviews for The Education of Charlie Banks
Cast: Jesse Eisenberg, Eva Amurri, Sam Daly, Alex Guarino, Jason Ritter, Charles Parnell, Chris Marquette, Gabby Sherba, Sebastian Stan Director: Fred Durst Summary:Years after Charlie (Jesse Eisenberg) fingers Mick (Jason Ritter) for a brutal assault, Mick shows up at Charlie's university and insinuates himself into college life, auditing classes, sleeping with Charlie's dream girl and pondering how his life might have been different. All the while, Charlie anxiously wonders whether Mick knows he ratted him out. My Thoughts: "It was a really great story. But more shocking it was directed by lead singer from Limp Bizkit, Fred Durst. I was a little hesitant on watching it on that fact alone, and yet curious to see his work. The movie is set in the seventies in New York and then later on in the eighties. It's about a kid named Charlie Banks who at a high school party witnessed a horrific fight between Mickey Leary and two other students. Mickey brutally beats the two jocks and puts them in the hospital in critical condition. Charlie then turns Micky into the police telling no one but his parents, but then later backs out on his statements he made to the police. Three years later, during his freshman year in college, Mick shows up for a visit (he is friends with Charlies best friend). Charlie is terrified to see him in his dorm room. Mick's visit drags out over several weeks. You can literally feel the tension through the screen when these two characters are in the same room. Mick and Charlie are nice to each other one moment and threatening in another. Charlie later reads in a news paper about a brawl that happened at a bar that ended up with one dead. Charlie is convinced that Mick is the killer. Its a very intense movie. Funny in some moments but very few. Jason Ritter and Jesse Eisenberg give fantastic performances. I was really surprised with this movie and really surprised by the director. Happy my curiosity got the best of me."
♥˩ƳИИ ƜѲѲƉƧ♥
Super Reviewer
This suprised me by how good it was. This is a slow paced movie that some will find boring but i really liked it. A great movie. Grade: B+
Here is yet another one of those really good movies that most people have never heard of, including me. I have to say that I think alot of Independent films are much better that the so called big budget films. I was never once bored during this movie. A very well done film, with a talented cast.
Cynthia S.
Super Reviewer
The Education of Charlie Banks Quotes
There are no approved quotes yet for this movie.