Edwin Boyd (Citizen Gangster)
(2012)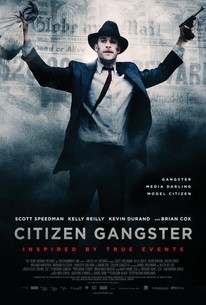 Edwin Boyd (Citizen Gangster) Photos
Movie Info
The first feature from writer/director Nathan Morlando, Citizen Gangster is based on the true story of Edwin Boyd (Scott Speedman), the man who became postwar Toronto's most famous criminal. Edwin Boyd has returned from WWII and is dismayed by public indifference towards veterans and humiliated by his inability to fulfill his dream of being a Hollywood star or provide for his children and wife Doreen (Kelly Reilly). Seeing only disappointment in the face of his policeman father (Brian Cox), Eddie is desperate and starts to rob banks. But what starts as friendly and flirtatious robberies, performed while wearing thick makeup, evolves over time into a career that when mixed with a gang of small time criminals is not unlike that of Clyde Barrow or Butch Cassidy, in which crime and love are mixed to get explosive results. -- (C) IFC
News & Interviews for Edwin Boyd (Citizen Gangster)
Critic Reviews for Edwin Boyd (Citizen Gangster)
Audience Reviews for Edwin Boyd (Citizen Gangster)
½
In "Citizen Gangster," Edwin Boyd(Scott Speedman) is a World War II veteran who works as a bus driver in Toronto. Dreaming of becoming an actor, he walks off the job one day. Now without the means to support his wife Doreen(Kelly Reilly) and two children, they must now rely on the generosity of his father(Brian Cox). At least, until Edwin decides to put some of his theatrical greasepaint and service revolver to use by robbing banks. "Citizen Gangster" is a prime example of a movie not being able to see the forest for the trees, as it is lovingly filmed in muted terms and contains a great deal of period detail. And then almost makes you wonder what the big deal is with this true life story whose biggest surprise is delivered in the postscript.(Saying "you had to have been there" does not count.) Plus, Scott Speedman does nobody any favors in the lead, as he is often overshadowed by the supporting cast, as this movie like many others in the past 20 years simply does not have enough Brian Cox to go around. At least, the story does have a valuable message to deliver, namely find a job you love. Just don't strand any passengers by the side of the road while you do.
Biodramas..love them! This was good. The movie is less about the facts, and more about the impact it had on the lives of those involved. While there is some violence in the movie, it is seriously downplayed for the benefit of making it more of a drama, than a shoot-em-up gangster movie. The outcome is surprising, and moving....
Cynthia S.
Super Reviewer
Citizen Gangster is the exciting true story of Edwin Boyd, Canada's greatest bank robber. Boyd was the John Dillinger of Canada, and he robbed several banks in Toronto. Edwin Boyd returned from active duty after WWII and after a string of bad luck, started robbing banks to support his family. Nathan Morlano directs his feature with Citizen Gangster and it is an engaging and thrilling movie that showcases Scott Speedman's talents. Speedman has acted in decent films in the past, but as Edwin Boyd, he delivers the greatest performance of his career thus far. Boyd's criminal career became Canadian folklore, and with this film we get to see this career criminal start out, almost like Dillinger did, from a small time robber, to a full time career criminal with a gang that would terrorize Toronto. I thoroughly enjoyed this film, and if you love a good crime drama, then pick this one up. This is a terrific picture from first director Morlano and he covers Boyd's beginnings to his arrest, imprisonment, escape and other criminal exploits. As a Canadian, I wasn't aware of this interesting bit of history, and this movie definitely opened my eyes, and makes me want to know more about Edwin Boyd and his exploits. Although not perfect, Citizen Gangster is a well made picture that relies on great acting and a compelling true story to make for a worthwhile viewing. This is one of the best Canadian films that I have seen in quite some time, and though not on par with Dillinger, Public Enemies and Bonnie and Clyde, this picture still follows the great crime films that told the real life stories of legendary bank robbers. Citizen Gangster is not an action movie, but it still has plenty of human drama to make this one worth seeing. Scott Speedman made a wise choice to not accept a part in Underworld: Awakening to star in this movie and he really hones his craft as an actor. Citizen Gangster will surely appeal to cinema buffs that enjoy a good crime film to watch, and with Edwin Boyd's exploits expanded from Toronto all the way to Montreal, and he definitely was Canada's very own John Dillinger. Director Nathan Morlano has crafted a fine picture that is engaging from start to finish.
Edwin Boyd (Citizen Gangster) Quotes
There are no approved quotes yet for this movie.