The Eel (Unagi)
(1998)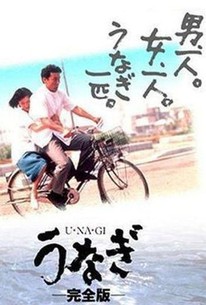 Movie Info
Japan's maverick master Shohei Imamura delivers a gentle, droll and haunting film about an ex-con making his awkward way to redemption.
Critic Reviews for The Eel (Unagi)
Audience Reviews for The Eel (Unagi)
½
In the most perverse circumstances, a story of affection and redemption in The Eel. Reflective. Optimistic. Oddly charming.
Jan Marc Macababayao
Super Reviewer
½
Rage, remorse, regeneration, redemption, romance and a lot of frankly baffling whimsy. I felt this movie was just all over the map and did not satisfy. "An erotic spellbinder." ??????, um... no.
Bob Stinson
Super Reviewer
½
[font=Century Gothic]In "The Eel", Takuro Yamashita(Koji Yakusho) is an office worker who has been receiving anonymous letters about his wife's infidelity while he goes on nighttime fishing trips. In order to investigate these claims, he cuts one such trip short, and does indeed catch her having sex with another man. He snaps and brutally murders her. Then, he calmly bikes down to the police station and turns himself in. Eight years later, he is released from prison on parole with his pet eel. He relocates to a sleepy seaside village under the watchful eye of his parole officer and with some inheritance money, he opens a barber shop, hoping to keep out of trouble. But then, he stumbles across an attempted suicide...[/font] [font=Century Gothic][/font] [font=Century Gothic]"The Eel" is an offbeat movie that would at first seem to be about redemption but is actually about how none of us are truly alone, either literally or figuratively. In other words, there is no way to avoid becoming involved in other people's lives.[/font]
The Eel (Unagi) Quotes
There are no approved quotes yet for this movie.