The Egg and I
(1947)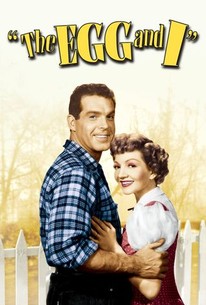 AUDIENCE SCORE
Critic Consensus: No consensus yet.
Movie Info
Based on the humorous autobiographical book by Betty McDonald, The Egg & I casts Claudette Colbert and Fred MacMurray as Manhattan-dwelling newlyweds. When MacMurray enthusiastically purchases an upstate farm in the hopes of cleaning up in the egg business, Colbert cautiously goes along. The film's humor is derived from the efforts of these two hopelessly citified slickers to adapt themselves to the rigors of rural life. In a plot complication added to the film, pretty neighbor Louise Allbritton upsets the equilibrium of MacMurray and Colbert's union, but both husband and wife are happily reunited at the finale (in real life, Betty McDonald and her husband were splitsville before the book even hit the stands). Retained from the novel, though heavily laundered, were the earthy characters of farmers Ma and Pa Kettle and their huge brood of children. Marjorie Main as Ma and Percy Kilbride as Pa struck so responsive a chord with filmgoers that Universal headlined them in their own "Kettle" series of B pictures, which endured until 1956. The Egg & I would be adapted into a live TV comedy serial in 1952, with Pat Kirkland and John Craven in the leading roles. ~ Hal Erickson, Rovi
Critic Reviews for The Egg and I
All Critics (2) | Fresh (1) | Rotten (1) | DVD (1)
[Claudette Colbert] is often extremely funny, and in the sequence at the local dance-hall, where she has to dance with all the neighbouring farmers regardless of their size and shape, she is exquisitely so. But I resent such a wastage of talent.
Starring Claudette Colbert and Fred MacMurray, this comedy about an urban couple who tries to live a happy rural life was so popuar at the box-office that it led to a sequel and to a whole series, Ma and Pa Kettle.
Audience Reviews for The Egg and I
½
Cute, quaint fish out of water story, almost surely the ground from which the old teevee series "Green Acres" was sprung, about a sophisticated big city girl trying to adapt to farm living. Colbert and MacMurray are friendly enough to get you to "set a spell".
Kevin M. Williams
Super Reviewer
½
A pretty nice, sentimental, romantic little movie, with some funny scenes, but sometimes it's a bit too silly or sentimental. Overall pretty good, though.
½
The Egg and I is one of the biggest grossing pictures in the history of Universal pictures and also one of the longest running movie series for that company. Based on the book by Betty Macdonald, it also features the film debut of "Ma and Pa Kettle" (the role of Ma Kettle earned Marjorie Main an oscar nomination). Ma and Pa Kettle are definitely the most entertaining thing about the film, with their acres of kids and a nest of chickens in every nook and cranny of the house. MacMurray plays his usual obliviously affable self, while Colbert is the hapless newlywed, swept off into the mountains to live on a chicken farm by her egg-obsessed husband. There's some unexpectedly heart-warming scenes, but the film itself isn't quite as funny as other similar films from that era.
Devon Bott
Super Reviewer
The Egg and I Quotes
There are no approved quotes yet for this movie.