Eight Men Out
(1988)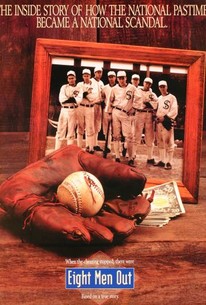 TOMATOMETER
AUDIENCE SCORE
Critic Consensus: Perhaps less than absorbing for non-baseball fans, but nevertheless underpinned by strong performances from the cast and John Sayles' solid direction.
Movie Info
Writer/director John Sayles' dramatization of the most infamous episode in professional sports -- the fix of the 1919 World Series -- is considered by many to be among his best films and arguably the best baseball movie ever made. This adaptation of Eliot Asinof's definitive study of the scandal shows how athletes of another era were a different breed from the well-paid stars of later years. The Chicago White Sox owner, Charlie Comiskey (Clifton James), is portrayed as a skinflint with little inclination to reward his team for their spectacular season. When a gambling syndicate led by Arnold Rothstein (Michael Lerner) gets wind of the players' discontent, it offers a select group of stars -- including pitcher Eddie Cicotte (Sayles regular David Strathairn), infielder Buck Weaver (John Cusack), and outfielder "Shoeless" Joe Jackson (D.B. Sweeney) -- more money to play badly than they would have earned to try to win the Series against the Cincinnati Reds. Sayles cast the story with actors who look and perform like real jocks, and added a colorful supporting cast that includes Studs Terkel as reporter Hugh Fullerton and Sayles himself as Ring Lardner.
News & Interviews for Eight Men Out
Critic Reviews for Eight Men Out
Audience Reviews for Eight Men Out
Good sports movie with a great cast and realistic 1919 setting that unfortunately suffers from too many moving pieces, convoluting what is otherwise a simplistic morality tale with true-story credibility.
Sam Barnett
Super Reviewer
This is writer/director John Sayles's historical drama about the infamous Black Sox Scandal in which eight players from the Chicago White Sox were paid to throw the 1919 WOrld Series- an event which is one of the mot notable and darkest moments in ports history. The retelling here is pretty good, and qwuite insightful, yet not without its flaws. The story could have ued some more context and clearer motivations, and it helps to have at least a little prior knowledge of the story before seeing this, but even then, this is still an enjoyable look at just how different the sports world was way back when, as compared to the days depicted here where the players were true working class heroes not making millions of dollars, and were seen as truly being guys deserving of worship, making their screw ups all the more stinging and upsetting. I think the film also could have further detailed the labor history aspect of things, and the exact cultural impact the scandal had, but it does a decent enough job as it stands.
Chris Weber
Super Reviewer
½
Worth seeing even if you don't like baseball. Great performances all round. How can you not love Michael Rooker?
Ken Stachnik
Super Reviewer