El Café Don's
(2001)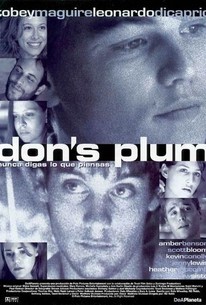 AUDIENCE SCORE
Critic Consensus: No consensus yet.
Movie Info
Unos jóvenes se reúnen semanalmente en una cafetería con el desafío de conseguir a una chica. Leonardo DiCaprio, Tobey Maguire, Amber Benson, Scott Bloom, Bethany Ashton, Todd Beckman. Dirigida por R.D. Robb.
Critic Reviews for El Café Don's
All Critics (3) | Top Critics (1) | Fresh (2) | Rotten (1) | DVD (1)
This sensationally acted tale chronicles a group of young, disaffected 20-year-olds at a diner one evening and how they rage against themselves and each other. It might just be the best American movie you won't view this year or any other.

Um interessante estudo de personagens que, apesar de pretensioso, é bem-sucedido e jamais se torna cansativo. Pena que DiCaprio e Maguire tenham conseguido proibir sua exibição nos EUA - principalmente porque, como todo o elenco, oferecem ótimas atuações.
August 17, 2003 | Rating: 4/5
Audience Reviews for El Café Don's
A group of Los Angeles teenagers meet every day at their local diner hangout to discus their latest misadventures with their miserable lives. Good movie. Been a Leonardo DiCaprio movie fan I had to see this and wasn't that bad. I understand why some actors didn't want for this film to be released but it sure was decent enough. It is true that impact is a little bit lost sometimes because it's hard to relate with the characters. It's hard to admit for anyone that they've asked out a 'friend' sometimes just for accompaniment and self-gratification like the characters seem to do in this film. But I'm a 100 % sure that everyone has done it at least once in their life. This film is hard to watch cause it takes this very aspect of relationships and puts in under a magnifying glass.I think the film is good in the way that it had it's desired effect. It's not your cup of tea if you want to watch something entertaining, something fun with your friends. Acting is very interesting, because it mainly plays in the same room and the film is in black and white attention is focused on the words, and even more on the gestures and facial expressions of the characters. Nice cast and it had some comedy and drama which was a nice treat overall. Directed by R.D. Robb, the largely unreleased Don's Plum made headlines throughout the late '90s for featuring Leonardo DiCaprio, who, after scoring big with the success of Titanic, was enjoying the top spot on young Hollywood's A-list. The film stars DiCaprio and Tobey Maguire as two of several obnoxious rich kids whittling the night away at Don's Plum, a local diner. Shot in black-and-white and largely improvised, the kids speak candidly about women, sex, drugs, and the nuances of relationships -- if by "nuances" one means adultery, masturbation, bisexuality, and whatever shock-topics the moment may have called for. Maguire and DiCaprio claimed to have worked in Plum free of charge on the condition that it would not be made into a feature release, and promptly sued Robb for distribution rights after it was, indeed, stretched into a 90-minute film. Though the young actors successfully blocked Don's Plum from release among American and Canadian audiences, it was shown internationally, albeit without much success.
½
Coarse, uncompromising character piece filled with quirks and moody undertones. Basically, we watch a group of miserable young adults discuss everything ranging from sex to suicide - they fight, they gripe, they laugh and they talk to themselves into a grimy bathroom mirror. It's about the triviality and meaningless complexity of a night out between wealthy American friends. There are some unpleasant, off-putting scenes in this film that have contributed largely to its negative reception. I can see why it's such a strongly disliked movie, but I get something out of it and I really admire the performances (particularly from the brilliant Leonardo DiCaprio).
½
This is an usual movie. Filmed in black and white, about a group of teenage guys who meet at their local diner. The guys main objective is to pick up girls to bring to their hangout. Unfortunately none of these guys are mature enough for relationships. Stars Leonardo DiCaprio, Tobey Maguire, Scott Bloom and Kevin Connolly. Leo and Tobey got a court order to bann the sale of this movie in US and Canada.
Candy Rose
Super Reviewer
El Café Don's Quotes
There are no approved quotes yet for this movie.