El club de los buenos infieles
(2017)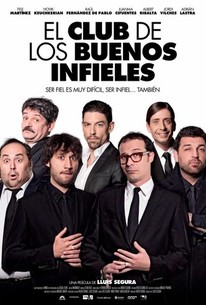 AUDIENCE SCORE
Critic Consensus: No consensus yet.
Critic Reviews for El club de los buenos infieles
All Critics (3) | Fresh (2) | Rotten (1)
Very well built in its structure, rising above its budgetary difficulties... [Full Review in Spanish]
No one should miss this comedy. [Full Review in Spanish]
April 3, 2018 | Rating: 3/5
It sounds cheesy and politically incorrect, and it is... [Full review in Spanish]
Audience Reviews for El club de los buenos infieles
So yes, this movie exists. If the description on Netflix doesn't describe this movie to you, the title of the movie translates to The Club of Good Unfaithful Men. There's something about the title that made me sort of facepalm and cringe when I first saw it. The film frames itself as something that really happened which, if it's true or not, is beyond me. Regardless, the most recent comparison I can make is that it reminds me of a "physical" version of the Ashley Madison website, that was an outlet used by many married people to have an affair with other married people. Except, again, in this film, the club is men-only. As far as female characters are concerned, there is literally no one of any importance here. You don't get to see any of them in any way, shape or form. You only have what the husbands tell you of them. And the only women you DO see on-screen are those that the men in this club have in their sights as their current sexual conquest. Sorry ladies, if you want a movie that fairly represents the struggles of real relationships, then this movie is not for you. This is a sausage-fest from beginning to end. So, yea, the concept is definitely a little problematic. Not that this type of story shouldn't be told, it's just that there's a very fine line you have to walk. Ultimately, the argument, and a rightful one at that, can be made that this is a sexist movie. And, in all honesty, I cannot disagree with that in the slightest. Having said that, I didn't entirely hate this movie in spite of it. It's not great, nor would I say that it's good, but parts of this do condemn the concept of this club, while at the same time it also condones it as something cool or something that men who are in unhappy, or sexless, marriages should do. Here's the thing about this movie, this men went to great lengths in order to set up this club. Lengths that no ordinary human being would go to to set-up their club of infidelity. They have their own gymnasium to hang out, their own scouts, they never go to the same place twice, their own tour bus, etc, etc, etc. These men go to absurd lengths to set up this club. And you get to thinking, if you go to these lengths to set up this discreet and secretive club, that protects its members, how about you put in that same effort in trying to fix your marriage. Can you imagine how successful these men's marriages would have been if they took that same effort and applied it to their wives??? Parts of me understands the concept behind the club, not perhaps the execution of it, but I understand that, after a while, for both men and women, you start to get tired of being with the same person on a romantic level. It gets to be repetitive and same-y after, say, a decade. And stuff that might not have bothered you early on about that person might piss you off now years after the fact. That's to be expected. That's where we start off with this movie. This group of friends, reuniting after a decade of not seeing each other, realizing that they don't desire their wives anymore attempting to regain their lust for their women. They go out and deceive their women by saying it's a work trip. The way they frame it is they're just gonna go out, meet women and get their lust back. Perhaps not even by having sex with them, just by being and talking to other woman they might gain it back. The thing about this movie is that there's some truth to what these characters are spouting about relationships. It's just that, obviously, they're going about in the worst way possible to achieve their goals. Anyway, their first outing goes horribly. They do party quite hard, taking meth and almost believing that one of their own was dead the morning after, bu they failed at their mission. Then they hire this author who wrote this book about seduction and he took them to this beautician convention in order to test themselves. This is when most of the men find their groove (with the exception of Carlos). Blah, blah, blah, later on their start accepting more members and it becomes a rather large club. This, to me, is quite illogical. The reason the club originally worked was because it was a tight-knit group of four friends (and later Carlos' psychiatrist) who knew about it. When you open that up to more people, the more chances you run of being discovered. I know I probably shouldn't think like this, but if you're trying to be discreet, you probably want to let as few people as possible know about your club. That's why I don't buy the conspiracy theories of 9/11 being staged by the government. So many people had to have been involved in that that, it stands to reason, somebody would have said something almost 17 years after the fact. Same principle applies here. So many men are involved that, eventually, one of them is gonna slip up and you're gonna get found out. So, again, I find the club's whole existence illogical. It's one thing if it's an online forum, which they also had for their members using a fake jewelry site as cover, but it's another to have a physical membership, where you can go to the gym and you can go on tours to have affairs with women. And, to me, that's where the movie falls apart. I like how the movie is framed as a documentary, but the whole execution of it strains credulity. I don't buy, for one second whatsoever, that this would have been taken as far as it had. That's why the documentary approach feels contradictory to everything this movie is trying to be. The concept is absurd, but they're trying to play it off as real, I don't know, it just doesn't work. This isn't a secret society like the Masons. It's a bunch of douchebag men trying to get their dicks wet outside of their marriages. I don't mind the whole club thing where these men reunite with each other to get away from the stresses of their lives or whatnot, what I don't buy is how organized and sophisticated the group is. It's just not believable to the point that, in my opinion, it detracts from the movie. The film has its funny moments, but not enough of them to make this enjoyable. The pacing is also incredibly lacking, for a film that goes like 80 minutes, this doesn't feel as short as it actually was. The whole scene at the beautician convention feels way too long. There's other scenes here and there that could have been shortened. The acting is solid, so I can't really complain about that. And, ultimately, it's not that I think it's a bad movie, its attempts at humor are just ultimately misguided. I like its documentary approach, but its humor isn't great, its characters (other than Carlos) are unpleasant and it's just not that good of a movie in the long run. This is definitely more hit than miss, but I have seen worse. If that's the nicest thing I can say about this movie, then you probably don't really need to waste your valuable time with this.
Jesse Ortega
Super Reviewer
El club de los buenos infieles Quotes
There are no approved quotes yet for this movie.