El Día de la bestia (The Day of the Beast)
(1999)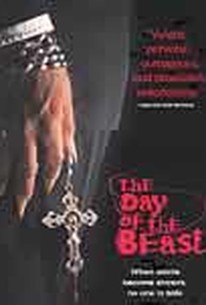 El Día de la bestia (The Day of the Beast) Photos
Movie Info
Spanish filmmaker Alex de la Iglesia followed his outlandish sci-fi/horror debut, Accion Mutante, with this colorful apocalypse fantasy about Father Angel (Alex Angulo), a scholarly priest whose intensive research into cabalistic "Bible Code" prophecies leads to a horrific discovery: the exact birthdate of the Antichrist. Convinced that Satan's spawn will be born somewhere in Madrid on Christmas Day, Father Angel embarks on a bizarre journey down the path of sin, committing the foulest possible acts against God and humanity in order to worm his way into the Devil's inner circle and face the ultimate foe on his own turf. Comprised of equal parts high-concept horror and scathing social satire (in the mode of the director's peer and former collaborator Pedro Almodovar), this ambitious horror film has garnered a sizable cult following. ~ Cavett Binion, Rovi
Critic Reviews for El Día de la bestia (The Day of the Beast)
Audience Reviews for El Día de la bestia (The Day of the Beast)
½
hilarious, like a subversive ghostbusters, with great committed performances by alex angulo as the mad priest and especially santiago segura as a heavy metal fan enlisted to help prevent the apocalypse
Stella Dallas
Super Reviewer
Exceptional dark comedy from Almodóvar protegé, Alex de la Iglesia. Shocking, violent and hilarious, EL DIA DE LA BESTIA is endlessly entertaining. De la Iglesia takes a classic formula and sets it in Madrid to interesting results. Alex Angulo, Santiago Segura and Armando de Razza play a triad of unique characters that compliment each other perfectly, bringing the amazing story by De la Iglesia and Jorge Guerricaechevarría to life.
Fernando Rafael Quintero Castañeda
Super Reviewer
How has this film been around for 14 years without me hearing of it? This is exactly my cup of tea. Original, funny, exciting and dark. The Day of the Beast is about a priest that begins committing sins so that he can contact Satan and trick him into revealing the future birth place of the Antichrist. Thus, allowing him to kill the child and prevent the apocalypse. The film begins with our "hero", a very loose term as he must be evil to save the world, doing stuff such as stealing change from beggars, pushing mimes off high platforms and keying peoples cars. As the end of days approaches, his acts become even more dark, but are always handled with a dark sense of humour. On his way he picks up two followers and the three of them create a very memorable cinematic trio. The film succeeds with a spot-on tone. It's never cheesy, too far-fetched or too serious. It knows when to drive the plot forward and when to sit back and have some fun. It also has some kickass music and memorable death scenes.
Luke Baldock
Super Reviewer
El Día de la bestia (The Day of the Beast) Quotes
There are no approved quotes yet for this movie.