El Dorado
(1967)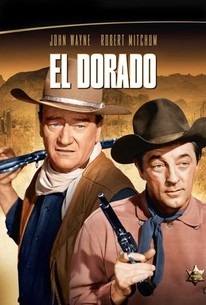 Movie Info
Having struck pay dirt with his 1958 western Rio Bravo, Howard Hawks more or less remade the picture twice in the 1960s. The first of these rehashes was El Dorado, with Rio Bravo star John Wayne back for more. Wayne plays a gunfighter who rides into El Dorado to link up with his old pal, sheriff Robert Mitchum ("It's the big one with the big two!" declared the film's advertisements). Wayne has turned down a job with evil land baron Ed Asner, who'd hoped to drive a family off the land that he needed for its water. That family, headed by R.G. Armstrong, is convinced that Wayne is working with Asner; when Armstrong's son Johnny Crawford dies, Wayne is held responsible, earning him a bullet in the spine from Crawford's sister Michele Carey. A year passes: Wayne returns to El Dorado, in the company of his new saddle pal James Caan. They find that Asner is still up to his old tricks, and that Mitchum has descended into alcoholism. Several plot twists and power shifts ensue, leading to the slam-bang climax, with the partially paralyzed Wayne, the newly crippled Mitchum (on crutches), and the concussion-suffering Caan battling together to stave off Asner's minions. The final long-shot, of Wayne and Mitchum limping off together arm-in-arm, is one of the most enduring images in the entire Hawks canon. If they loved it twice they'll love it thrice: in 1969, John Wayne and Howard Hawks teamed up for a third Rio Bravo derivation, Rio Lobo--which, like the first two films, was scripted by Leigh Brackett. Incidentally, that's famed artist Olaf Weighorst (whose paintings appear in the title sequence) in a cameo as the gunsmith. ~ Hal Erickson, Rovi
Critic Reviews for El Dorado
Audience Reviews for El Dorado
½
Hawks re-teams with John Wayne in this obvious remake of Rio Bravo (although he always denied that), which despite lacking in originality and being too familiar for its own good, boasts a stunning cinematography, elegant dialogue and Robert Mitchum virtually stealing the scene.
Carlos Magalhães
Super Reviewer
Excellent film is more an examination of friendship and loyalty than a conventional western. Serious considerations are leavened with a natural camaraderie between the characters and a fine sense of humor. Wayne and Mitchum work very well together, their interchanges have the lived in feel of old acquaintance with a young James Caan loose, sexy and funny as the gunslinger who can't shoot. The wonderful supporting cast and Hawks surehanded direction all contribute to making this a very fine film indeed.
Who cares if El Dorado has a similar to Rio Bravo, it's a great movie that is one of the best American Westerns. The story has such a beautiful flow and pace, with characters that you are glued to from the beginning. That's what Howard Hawks does best, create movies that people can enjoy and also respect. With a dynamite cast like The Duke, Robert Mitchum and James Caan, how can you lose? While this might be a lot more subtle, it shows you everything good about the genre and has absolutely zero flaws. You can appreciate it from every level, it's not for any one type of audience.
Conner Rainwater
Super Reviewer
El Dorado Quotes
| | |
| --- | --- |
| Cole Thornton: | Cole Thornton: What about using a gun? Mississippi: Johnny didn't believe in using guns. Cole Thornton: He's dead. Think about that. |
| Cole Thornton: | What about using a gun? |
| Alan Bourdillon Trehearne (Mississippi): | Johnny didn't believe in using guns. |
| Cole Thornton: | He's dead. Think about that. |
| | |
| --- | --- |
| Bull Harris: | ...might have anyhow if I wasn't tryin' to figure out what that fella's got on his head. |
| Alan Bourdillon Trehearne (Mississippi): | It's called a hat. |
| Bull Harris: | Well, I'll have to take your word for it. |