El Lobo (Wolf)
(2004)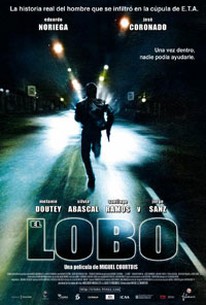 AUDIENCE SCORE
Critic Consensus: No consensus yet.
Movie Info
Inspired by the experiences of a Spanish secret agent who infiltrated the Basque nationalist/separatist organization Euskadi Ta Askasasuna between 1973 and 1975, Miguel Courtois' tense docudrama stars Eduardo Noriega as Mikel Lejarza, aka El Lobo ("The Wolf"). In the politically turbulent 1970s, the ETA's extreme actions gave the conservative Franco regime all the reason they needed to shut down the democratic process in Spain. By infiltrating the ETA, El Lobo managed to effectively take down approximately one quarter of the terrorist activists within the organization. Not only that, but he also thwarted plans by terrorists to escape from prison and resume their reign of violence on the outside. Later, in order to escape the wrath of the ETA - who plastered posters of his likeness all across the Basque country - El Lobo would be forced to change his identity and vanish without a trace. ~ Jason Buchanan, Rovi
Critic Reviews for El Lobo (Wolf)
There are no critic reviews yet for El Lobo (Wolf). Keep checking Rotten Tomatoes for updates!
Audience Reviews for El Lobo (Wolf)
½
In "El Lobo," Begona(Silvia Abascal) is alarmed at ETA terrorists being welcomed into her home by her husband Txema(Eduardo Noriega). He tries to reassure her but her worries are only confirmed when an informer is killed the following day. After being caught up in the resultant dragnet, Txema is told by Ricardo(Jose Coronado) of the Secret Service that he can sense his reluctance, asking him to work for him. What he is looking for is not just another informant, but somebody who can infiltrate the ETA and report back. With his construction business failing, Txema agrees, accepting a check in lieu of the usual thirty pieces of silver. At least, the job is not all bad for Txema when he meets Amaia(Melanie Doutey) at a wedding, doubling as a party congress. "El Lobo" is the kind of morally complex, suspenseful, sexy and paranoid thriller that they simply do not make anymore(with the possible exception of FX's "The Americans," that is). That's even after a rough start in trying to establish the situation before it soon settles down into the facts of its truth based story, including details of the time like what it was like to live in Franco's Spain.(Bonus points for the Patti Smith song.) Plus, I always love political arguments, as Txema ia caught up in a unique position of working against the violence committed by those he would normally be on the side of in his Basque homeland while being allied with the Fascists in Spain. That same violence ends up taking a terrible toll on him, too, as seen in the opening scene.
El Lobo (Wolf) Quotes
There are no approved quotes yet for this movie.