El Mariachi
(1993)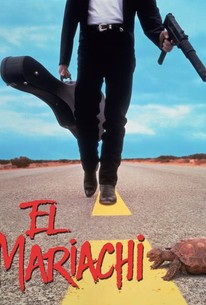 TOMATOMETER
AUDIENCE SCORE
Critic Consensus: Made on a shoestring budget, El Mariachi's story is not new. However, the movie has so much energy that it's thoroughly enjoyable.
Movie Info
Filmed in two weeks on a budget of 7,000 dollars, El Mariachi was one of the singular pleasures of the 1993-1994 movie season. Kind-spirited guitarist El Mariachi (Carlos M. Gallardo) simply wants to wander through life as his father and grandfather did, with a song in his heart and a smile on his lips. He wanders into a small mob-run town, guitar case in hand. It so happens that the local criminal element is awaiting the arrival of vicious hit man Azul (Reinol Martinez), who is well known for carrying his weapons in...a guitar case. Just when you think you've got a lock on what's going to happen next, director Robert Rodriguez throws us for a loop, unexpectedly alternating whimsical comedy with graphic violence. Rodriguez later retooled the plot of El Mariachi for his far more expensive (and far less satisfying) Antonio Banderas vehicle Desperado (1995). ~ Hal Erickson, Rovi
Critic Reviews for El Mariachi
Audience Reviews for El Mariachi
Robert Rodriguez's film debut is a good little action film that was made on a 7,000$ and showcases some pretty creative filmmaking skills. The plot is fairly simple, the acting is mediocre to decent, but you have to admire what you see on-screen. Rodriguez has flair in making something entertaining, and he delivers something truly good here with a low budget action flick about a musician who travels to a rundown crime ridden town. A notorious hit man also carries a guitar case, but he carries weapons, not a guitar. The craft and the effort that went into El Mariachi is superb, and I am surprised that were able to pull something like this with a shoestring budget. Fans of low budget films will surely enjoy this film, and it is among the most stunning debut features that I have seen. Robert Rodriguez is a great filmmaker, and we get a sense of what he would later accomplish in his career with this film. Acting wise, there's never anything great, and it is hard to tell what the characters say because the film is in Spanish with no subtitles. However the visuals are quite good and that's where the strength of the film lies. The film is definitely amateur in nature, but you have got to give Rodriguez the credit he deserves by making something truly original with such a meagre budget and subpar effects, which are quite good surprisingly. El Mariachi is a fun and entertaining low budget picture that proves that creativity can overcome constraints of working with dire methods. Robert Rodriguez has crafted something special here, and this is a film that is a must see and highly engaging picture that will certainly give action fans something different to watch.
I liked it...It was good.....funny and action. And I think this no-named guy fits the part much better than Banderas. The rolling head scared the shit out of me though...
Martin Sahlin
Super Reviewer
½
"All I wanted was to be a mariachi, like my ancestors. But the city I thought would bring me luck brought only a curse." A traveling mariachi is mistaken for a murderous criminal and must hide from a gang bent on killing him.
REVIEW
What could easily be viewed as just a simple B-movie turns into an impressive, action-packed independent feature from director Robert Rodriguez. It's the volatile, gripping story of a wandering guitarist who arrives in a small Mexican town looking for a big break, but unfortunately a case of mistaken identity makes him the target of the town's cold-blooded boss and his vile henchmen who are bent on killing him. Shot for a remarkable $7,000, and featuring a cast of newcomers and generally unknowns, this formidable little feature still packs a punch with violent, pumped-up action scenes and credible performances. Nothing ever truly breathtaking, but a respectable showing nonetheless.
Lorenzo von Matterhorn
Super Reviewer
El Mariachi Quotes
| | |
| --- | --- |
| El Mariachi: | [voiceover] All I wanted was to be a mariachi, like my ancestors. But the city I thought would bring me luck, brought only a curse. I lost my guitar, my hand, and her. With this injury, I may never play the guitar again. Without her, I have no love. But with the dog and the weapons, I'm prepared for the future. |