El Rey de la montaña (King of the Hill)
(2007)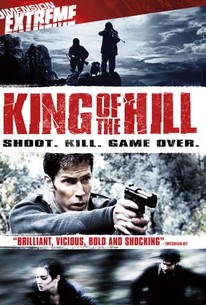 Movie Info
A man traveling through rural Spain in search of the town where his girlfriend awaits becomes ensnared in a surreal waking nightmare in director Gonzalo Lopez-Gallego's intricate thriller. Quim (Leonardo Sbaraglia) was on his way to visit his girlfriend when he stopped off at an isolated gas station for some fuel and a quick trip to the restroom. But the men's toilet is out of order, and in his haste Quim ducks into the ladies room. Upon exiting ,Quim crosses paths with a mysterious beauty named Bea (Maria Valverde). The sexual tension is as immediate as it is undeniable, and the two strangers engage in some explosive, anonymous sex right there on the bathroom sink. Recognizing the opportunity in the moment, Bea absconds with Quim's wallet and lucky lighter. Of course, it isn't long before Quim realizes what's happened, and when he subsequently spies Bea's car sitting abandoned on an unmarked road, it seems like the perfect opportunity to retrieve his personal property. Suddenly, out of the quiet country air, a shot rings out and Quim is wounded. As Quim ducks for cover nearby, he sees that Bea is also hiding from the unseen sniper. Eventually the frightened pair manages to escape their assassin's bullets and make their way to the local police. Much to their surprise, the authorities not only voice doubt about the existence of the mysterious sniper, but also cast a troublingly suspicious eye on them. Regardless of their initial skepticism, however, the police are about to discover that anyone who dares venture out on this mountainside is immediately marked for death.
Critic Reviews for El Rey de la montaña (King of the Hill)
Audience Reviews for El Rey de la montaña (King of the Hill)
½
A traveller who gets lost in the isolated Spanish countryside finds himself stalked by unknown armed assailants intent on murder. This extremely taut and economical Spanish indie thriller has a no-nonsense approach that I actually found quite refreshing. No soapy sub plots or irrelevant embellishment, just a tense cat and mouse game between hunters and prey. Obviously owing a debt to the likes of Duel and Deliverance, the story is a simple tale of survival in the face of adversity and some very effective direction and solid performances make for an intriguing and suspenseful experience. Unfortunately the one gaping flaw is the revelation of who the hunters are and why, which is a shame because I felt it wasn't really necessary. If the motive behind the killings were left unknown, as in The Hitcher or Duel, it would've been far more effective as the explanation is rather weak and glib. It's a real shame because the execution is very strong, but if you can live with the half baked plot twist it's actually very well done.
½
"The King of the Hill" is kind of a simplistic hunter/prey film, a spanish "Deliverance" of sorts. Two travelers get lost on a remote mountain-side road as a group of men hunt them down. It's not a particularly fresh concept, and certain aspects of the film reminded a little too much of the Dnepropetrovsk maniacs, a pair of Ukrainian thrill killers from just a few years ago (two young men who snapped photos of their victims on their cell phones). I guess it's not really a spoiler to tell you that the killers are men, or that they're young, which is of less consequence than the filmmakers seem to want you to believe. As far as these types of films go, "El rey de la montana" is done adequately, although I can't give much reason to recommend it other than need to pass some time. It is indeed a passable film.
Devon Bott
Super Reviewer
½
Tense, atmospheric thriller from Spain about two strangers travelling through remote mountainous countryside who are stalked by a pack of sniper-rifle wielding hunters. We're seeing a lot of these backwoods hillbilly killer thrillers nowadays with every country seemingly adding to the genre. This Spanish effort may not be the best or goriest of them but it's well made and acted and reveals a shocking little suprise once the identity and motive of the hunters is revealed. Overall though there's nothing ground breaking going on here but it's a pretty decent effort.
El Rey de la montaña (King of the Hill) Quotes
There are no approved quotes yet for this movie.