Election
(1999)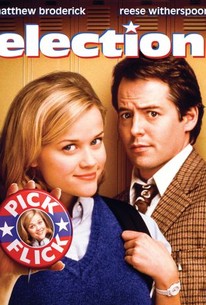 Movie Info
In this satiric comedy, Jim McAllister is a popular and well-respected instructor at George Washington Carver High School in Omaha, Nebraska, but lately he's been unhappy in both his personal and professional life. His anxieties finally come to a head as a result of the school's student elections.
News & Interviews for Election
Critic Reviews for Election
Audience Reviews for Election
½
An amusing satirical film that may take us more than one viewing to grasp its subtle, dark humor and the sharp irony of what it wants to say involving ethics and morality - and it benefits immensely from some very nuanced characters played by the actors in excellent performances.
Carlos Magalhães
Super Reviewer
½
*Sigh* If only more high school films could be of the same quality as this. Calling it a "high school" film though, is a litle tricky, as that terms seems to have some unfavorable connotations around it. I use it because it is set at a high school, and involves students and teachers, but it really transcends that arena, and thus shouldn't be compared to something like, Not Another Teen Movie, which, while funny at times, is just a poor mess...it also happens to spoof this movie. The story here concerns a nice and popular teacher named Jim McAllister who tries to be really enthusiastic about his job as a way of hiding his frustrations and feelings of dissatisfaction with other parts of his life. Mr. McAllister is bound and determined to stop Tracy Flick from winning the election for student body president. Tracy is the classic Type A overachiever who will stop at nothing to find success and happiness. She can be nice and friendly, but is deep down hiding a dark side of vindictiveness and manipulation. McAllister convinces a popular ex-jock to run against Tracy, hoping that she will lose, and learn a nice lesson in humility. What ends up happening though is a nutty story about finding out that trying to stop someone like Tracy is something one would be better off just avoiding. This is a wickedly funny and darkly satiric film that just feels right with Alexander Payne as co-writer and director. The film is adapted from a novel I haven't read, but the script is really sharp and really nails the world of overly ambitious overachievers and the people who can't stand them. This isn't quite as dark as I was thinking it might be, but despite the quirky tone, this is still a film with a lot of bite to it. I just loved the little details to the characters and they way it was all edited together. There's a lot of voice over, but it works just fine, and I liked that the start followed multiple characters, even if it mostly focused on just McAllister and Tracy. In a way, this reminded me of Rushmore, but I think this is a better film, and the quirkiness isn't overwhelming. It's used as an exclamation point. Not that Rushmore isn't good, I just find it to be a tad overrated. The casting is just dynamite. Matthew Broderick, who is more off than on with his acting, is quite good here, and this ties with Ferris Bueller as his best work. He really nails the everyday schlub who you want to like, but can't totally get on board with. That's how it is with Tracy too. You want to like her, but even she is hard to fully sympathize with. That's what makes this all so much fun and entertaining though. Apparently Thora Birch was supposed to be in, but left due to creative differences. I figure she was supposed to play Tracy (or possibly Tammy), and even though I love her, Reese totally owns as Tracy and is brilliant. So too is Jessica Campbell a burn out lesbian who joins the election race in order to expose elections as the sham they really are. She comes close to stealing the show and I'd love to see her in more productions. Payne has become one of my favorite filmmakers, and so far, he's not had a miss yet. Give this one a watch, it's some great stuff.
Chris Weber
Super Reviewer
Lucas Martins
Super Reviewer
Election Quotes
There are no approved quotes yet for this movie.