Breakin' 2 - Electric Boogaloo
(1984)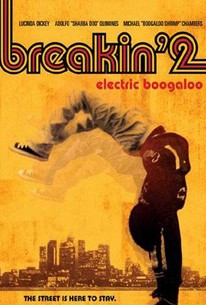 Breakin' 2 - Electric Boogaloo Videos
Breakin' 2 - Electric Boogaloo Photos
Movie Info
Breakdancing, hip-hop, rap, and a good time are the main stars of this standard teen movie about youths trying to raise money to save their community club from being razed for a shopping mall. Ozone (Adolfo Quiñones) and Turbo (Michael Chambers) are two master breakdancers who have started a community club to teach other teens how to manage the acrobatics of the dance without literally breaking anything. Their efforts create some choreographed, group breakdancing that is rather innovative. But an evil developer (Peter MacLean) sees their property as ideal for a shopping mall project -- and a crooked politician is willing to back him up for a fee. As the teens do their best to raise money to keep their center, some are also battling with restrictive parents or trying to ease into romantic liaisons that offer their own challenges.
Critic Reviews for Breakin' 2 - Electric Boogaloo
Audience Reviews for Breakin' 2 - Electric Boogaloo
Horrible name (it even rhymes), but a good movie. From the start I was afraid that this sequel was going to be different, it looked like an all out musical from the first scene, but it got better after that. It's all about the break dancing team trying to raise money for their youth arts/community center, which is going to be destroyed and turned into a mall. You would think that teenagers would welcome a mall, where they could hang out, shop, and even get jobs, but this community is all about dancing and the arts, and I loved that. I was rooting for them all the way through, and I wasn't disappointed by a cheesy ending either. I liked this movie.
½
The name alone makes this sequel of all sequels.
This sometimes exhilarating break-dancing movie is better than the original.
Dean McKenna
Super Reviewer
Breakin' 2 - Electric Boogaloo Quotes
There are no approved quotes yet for this movie.