The Electric Horseman
(1979)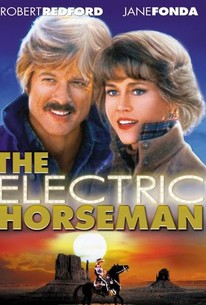 The Electric Horseman Photos
Movie Info
A boozy ex-rodeo champ sells out and becomes a glitzy breakfast cereal pitchman. He hates it, and in his sober moments wonders what happened to his formerly charmed life. The one bright spot in Sonny Steele's existence comes during public appearances (where he is decked out like a Christmas tree in electric lights) when he gets to ride the magnificent stallion Rising Star. The trouble begins when Steele discovers that the ad men have been shooting Rising Star full of tranquilizers so the spirited beast will behave during shows. Perhaps seeing a parallel in his own life, Steele snaps and decides to kidnap the horse and high-tail it to the desert. As the stallion is extremely valuable, a massive horsehunt is launched. No one cares a whit for Sonny and the orders are to "shoot to kill" if need be. The only one who succeeds in finding him is a plucky female reporter. She sticks to him like glue and makes sure the country learns of Sonny and Rising Star's plight. Along the way, the cowboy and the reporter also find time to fall in love.
Critic Reviews for The Electric Horseman
Audience Reviews for The Electric Horseman
I didn't get to see the whole movie, but from what I saw it's very boring. I will see it again some day to give it another chance, though.
definitely remember this from them younger years, hehehe cute.
The Electric Horseman Quotes
There are no approved quotes yet for this movie.