Elektra
(2005)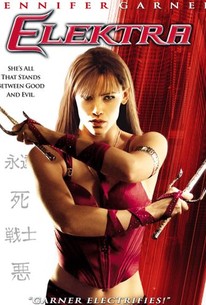 TOMATOMETER
AUDIENCE SCORE
Critic Consensus: Jennifer Garner inhabits her role with earnest gusto, but Elektra's tone deaf script is too self-serious and bereft of intelligent dialogue to provide engaging thrills.
Movie Info
Ordered to assassinate Mark Miller, the deadly female ninja Elektra opts instead to defy her orders and defends both Mark and his daughter Abby against all comers.
Critic Reviews for Elektra
Audience Reviews for Elektra
By far, the absolute worst Marvel movie to date. "Elektra" is a spin off of "Daredevil" and completely goes off the tracks with a bad story, and horrible acting. Jennifer Garner stars as "Elektra" a hired assassin who has come back from the dead and reunited with her old sensei Stick(Terence Stamp). She's hired to kill a father and daughter, but her conscience kicks in and she protects them instead of killing them. "Daredevil" is a superhero movie that is over the top, but in a lot of ways based in reality. Here, "Elektra" just moves into this supernatural-esque world, that doesn't make any sense. There's a guy with tattoos that come to life, a woman who turns people to stone(kind of) with a kiss, it just seemed so fake and ridiculous, it's hard to take any of this movie seriously. I know, I know, how can you say this is fake when you love a movie like "Thor?" Watch both of them, and tell me which seems more realistic. Garner may be hot, but my god she can't act in this movie. She just has this pouty look on her face the whole time, and the father/daughter duo, I was hoping like hell they would die. Skip this absolute turd of a movie, and watch "Daredevil" again, or any other movie for that matter.
Everett Johnson
Super Reviewer
½
Jennifer Garner is a sweet-faced assassin and she works hard in the fight scene. But this version of the Marvel Comics character, and spin-off from 2003's Daredevil, lacks backbone. On the plus side, rival assassins such as Tattoo, whose tattoos turn into fighting accessories, are imaginative; the photography is first-class. But the film stalls in ridiculousness: for example, Elektra's corset-and-heels fight outfits.
Dean McKenna
Super Reviewer
A lot better then I expected. A pretty okay story and somewhat entertaining. Definitely watchable.
Martin Sahlin
Super Reviewer
Elektra Quotes
| | |
| --- | --- |
| Abby: | Her name's Elektra dad... |
| Abby: | Her name's Elektra dad. |
| | |
| --- | --- |
| DeMarco (Uncredited): | I guess it's all true. The red outfit, the knives. What happens now? You just kill me, straight out, just gulp? |
| Elektra Natchios: | Don't worry. Death's not that bad. |
| DeMarco (Uncredited): | How do you know? |
| Elektra Natchios: | I died once. |