Elephant
(2003)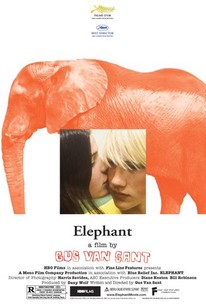 Movie Info
A tale about high school violence that unfolds on an ordinary school day, inside an American high school, filled with schoolwork, football, gossip and socializing. For each of the students we meet, high school is a different experience: stimulating, friendly, traumatic, lonely, hard.
Critic Reviews for Elephant
Audience Reviews for Elephant
½
With a flawless direction and elegant long takes, this hypnotizing film moves in a careful pace to follow its characters prior to an impending tragedy. I only wish I felt more involved with them, while the amateur actors could have conveyed a more authentic sense of terror.
Carlos Magalhães
Super Reviewer
½
Quite an experience. More about tone than anything. I read a review on someone's blog that said that not only does this film not trivialize Columbine (as some have criticized it of doing), it also is not about school shootings (kinda like how Hitchcock's "The Birds" is about everything but people being attacked by birds). The basic plot, despite a look at the American mundane (and death) follows a seemingly ordinary day at a high school that suddenly and inexplicable turns tragic. This film walks a fine line between being flat-out pretentious and inaccessible for most everyone, but also not. This is mainly because of the indie/experimental style used in it's creation. Despite this little point, the experimental artiness of it all is actually a big strength. Pretty much all the actors are nonprofessionals (or non actors period), and there's lots of long takes, slo-mo and handheld camerawork. Had this been a more mainstream or Hollywood type of film it wouldn't have been as good or powerful. The final fifteen minutes are done without any real emotion or music or slo-mo, making everything that happens all the more disturbing and unsettling. The film plays with time and sequence, but unlike stuff Tarantino does, it's not as immediately easy to follow. This bugged me a bit as it was hard to keep things in check, but at the same time, made things seem even more affecting since the whole movie is about a normal day that just goes horribly wrong with no real explanation or closure. Kinda like everyday life. This film is not for everyone, but should be seen by everyone at least once. Like I said as I started this review, it's "quite an experience".
Chris Weber
Super Reviewer
Gus Van Sant's 'Elephant' made me sick in the stomach. Powerful and unsettling, masterful in its direction, editing and sound design. Never have I seen a film de-glamourise violence in this way. You dread it from the moment you see the two kids about to walk into school, and the non-linear timeline left me constantly feeling sick, knowing what's to come into to the lives of these unassuming, mundane teenagers we follow. The editing is brilliant, and the long tracking shots and camera movement in general is very distinct. Fleeting references to a first person shooter, the ease at which guns can be obtained, delivered by a cheerful delivery man to boot. Is this just Van Sant's view on how America is?
Elephant Quotes
There are no approved quotes yet for this movie.