Elephant
(1989)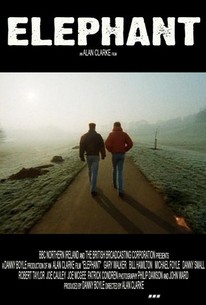 AUDIENCE SCORE
Critic Consensus: No consensus yet.
Movie Info
This short is a depiction of a series of violent killings in Northern Ireland with no clue as to exactly who is responsible.
Critic Reviews for Elephant
There are no critic reviews yet for Elephant. Keep checking Rotten Tomatoes for updates!
Audience Reviews for Elephant
Directed by the renowned Alan Clarke ("Scum," "Made in Britain"), "Elephant" is a 39-minute parade of flat, disjointed shootings. One after the other. Barring a few variations on the formula, we see a random man take an extended walk to a location, casually shoot someone dead and leave. Then the camera takes a lingering view of the victim. Rinse and repeat. The film is intended to mirror the senseless violence in Northern Ireland, except there are few indicators of the setting. Beyond one quick exchange on a soccer field, there is no dialogue at all. The problem with "Elephant" is that it's so self-consciously minimalist and stylized that the filmmaking is more provocative than the killings. I found myself thinking about the long takes and deliberate pace more than the deaths. Nor are the shootings particularly gory, so that potential for shock value is lost too. By the end, "Elephant" becomes just a perverse game of suspense, wherein one idly wonders who will be shot next and if the gunplay will include some arty twist. If Clarke wants us to feel the unnatural detachment that develops when community violence becomes routine, he succeeds. But if he wants us to feel the tragedy, "Elephant" fails. Clearly, Gus Van Sant's "Elephant" (2003) owes plenty to this film, but Van Sant's revision is superior.
Eric Broome
Super Reviewer
This film had a lot of creative influence on two of my idols (Gus Van Sant and Harmony Korine), and I can see why. Alan Clarke's use of movement, composition and rhythmic editing make for a truly unnerving experience, although the effect of the images doesn't completely sink in until the film has finished. I think there's something profoundly disturbing implied in Elephant, but I can't quite distinguish what it is on a first viewing. This is something I could watch dozens of times, just to admire the artistry of its execution (pardon the pun).
Elephant Quotes
There are no approved quotes yet for this movie.