Elephant Walk
(1954)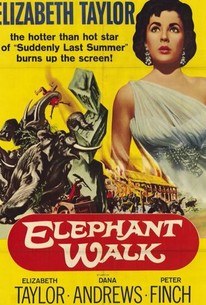 Movie Info
Elephant Walk was several weeks into production when the film's original leading lady, Vivien Leigh, was replaced by Elizabeth Taylor (you can still see Leigh in a few long shots). Based on a novel by Robert Standish, the film casts Taylor as Ruth Wiley, the new bride of solemn plantation owner John Wiley (Peter Finch). At first thrilled at the prospect of living in the wilds of Ceylon, Ruth rapidly becomes a beautiful bird in a gilded cage. When American overseer Dick Carver (Dana Andrews) arrives on the scene, Ruth falls in love. Before she can leave her husband, though, the region is devastated by cholera. Making things worse, the local elephants go on a rampage, destroying her husband's mansion, which his father had maliciously built in the middle of the pachyderm's ancient right of way. Fraught with sexual symbolism, Elephant Walk works on a high-gloss soap opera level. The climactic stampede, however, is disappointingly filmed on a studio interior set, robbing what should have been a rousing climax of much of its credibility.
Critic Reviews for Elephant Walk
Audience Reviews for Elephant Walk
½
A wealthy tea tycoon sweeps small-town Elizabeth Taylor off her feet and carries her away to his remote jungle plantation in Ceylon. Once there, his young bride discovers that her husband's enormous mansion was built directly across an active elephant trail, bringing people and pachyderms into constant conflict. Elephant Walk is a product of the 1950's and it's under-tone of post-war prosperity attests to that fact. Taylor is beautiful and principled and virtuous, the picture-perfect bride. Her husband, Edward Ashley, is struggling with the lingering specter of his over-bearing, recently deceased father and his own heart-felt compassion for his wife. Add to that a handsome plantation manager in the form of Dana Andrews and you've got the makings of a melodramatic love triangle. The cinematography alone would make this film worth watching, but the sight of Elizabeth Taylor being pursued by a herd of rampaging elephants is the image that every classic movie fan will want to see. Elephant Walk isn't for everyone, but for those of you who can appreciate old-school Hollywood glamor and big budget studio productions it's highly recommended.
Randy Tippy
Super Reviewer
Well, it was kind of the same story as Rebecca, except in Sri Lanka and a lot of mad elephants, and not as good. Yeah.
Elephant Walk Quotes
There are no approved quotes yet for this movie.