Elephant White
(2011)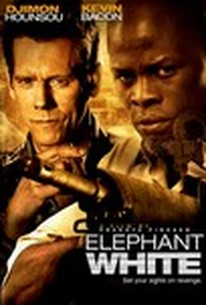 AUDIENCE SCORE
Critic Consensus: No consensus yet.
Movie Info
Mercenary Curtie Church (Djimon Hounsou, Blood Diamond) is hired to take out a notorious Thai sex-trafficking gang by a father's whose daughter was kidnapped and murdered by the gang. With the help of a ruthless weapons dealer (Kevin Bacon, Mystic River), Church finds the men he is hired to kill. But what starts as a paying job turns into an outright war between two rival gangs, and Church finds himself caught between the corrupt world that surrounds him and the truth behind the man who hired him.--(C) Millenium Entertainment
Critic Reviews for Elephant White
All Critics (3) | Fresh (0) | Rotten (3)
While the action isn't terrible, it pales in comparison to Pinkaew's other movies.
This film just didn't really measure up in its sum to the potential parts that were included.
a dreary movie that is more about the body count than anything else.
Audience Reviews for Elephant White
A stupid B-grade flick with an awful screenplay and lamest of dialogues. This disgrace of a movie make even actors like Kevin Bacon or Hounsou come across as a bunch of talentless performers.
What started out as a contracted job for mercenary Curtie Church (Djimon Hounsou) turns into a revenged fueled all out war between two rival gangs. With the assistance of a heartless weapons supplier Jimmy the Brit, (Kevin Bacon) Curtie finds himself finding solace and comfort with the spiritual assistance of a young woman named Mae. Despite the fact that Curtie believes in nothing but staying alive long enough to getting the "job" done, He eventually finds that he was nothing more than just a pawn in someone's devious game in an attempt to overthrow the gang's grip on the flesh trade of young women in Thailand. One action packed spiritual adventure you wouldn't want to miss...please see this one...action fans!
Fascade Fiveoneeight
Super Reviewer
In Bangkok, the assassin Curtie Church (Djimon Hounsou) is hired by a businessman to kill six men. This film was interesting and action packed all the way. Djimon Hounsou kicked ass not only with his sniper but with close combat too. I like him as a action actor, it fits him. Kevin Bacon really had a funny i don't know from where accent which totally wasn't necessary if you ask me, thus he did not bad on his role. Decent story and great action means a good movie anytime on my book. Give it a shot you might like it. Job done, the employer proposes another contract to Curtie to kill the lord of the traffickers that had addicted, prostituted and murdered his daughter. Curtie seeks out the Englishman Jimmy that is an arm dealer and he rents heavy weapons. Then Curtie provokes a war between gangs to eliminate the greatest number of white slave traders. Meanwhile, the young prostitute Mae meets Church and helps him to release other girls. When Mae vanishes, Curtie seeks her out and finds the truth about Mae.
Elephant White Quotes
There are no approved quotes yet for this movie.