Eleven Men Out (Strakarnir okkar)
(2007)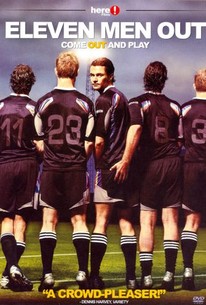 Eleven Men Out (Strakarnir okkar) Photos
Movie Info
A sports star's career takes a sudden roller coaster ride when he makes a very unexpected announcement in this comedy from Iceland. Ottar Thor (Bjorn Hlynur Haraldsson) is a well-known soccer player whose life off the field isn't as successful as his career in football. Thor's marriage to a one-time beauty queen ended in a bitter divorce, his 13-year-old son Magnus (Arnmundur Ernst) would rather play video games than talk to his dad, and his obnoxious father and brother have moved in to his home. One day, while talking to a reporter after a game, Thor mentions that he's gay without really thinking about what might happen, and suddenly his world is turned upside down. The owners of Thor's team, as well as his fellow players, turn against him and kick him off the squad, while his family is more than a bit taken aback. Still eager to play, Thor takes up an invitation to join a semi-pro team coached by a friend, which already has a few gay players. Thor's presence on the team, and the media circus over his decision to come out, put a new spotlight on the gay footballers, and several more decide to move out of the closet and onto Thor's team. Suddenly Thor is a sports star again with a winning record (though a few victories come from forfeits, since some clubs are unwilling to take the field with a queer team), and his old team decides to challenge them to a special match...that just so happens to coincide with Gay Pride Day. Meanwhile, Thor decides to act on his attraction toward one of his teammates, but discovers that his dreamboat isn't much of a catch off the field. Eleven Men Out (aka Stratkarnir Okkar) received its North American premier at the 2005 Toronto Film Festival. ~ Mark Deming, Rovi
News & Interviews for Eleven Men Out (Strakarnir okkar)
Critic Reviews for Eleven Men Out (Strakarnir okkar)
Audience Reviews for Eleven Men Out (Strakarnir okkar)
So disappointing. The story has potential, some good ideas are there, but there is no coherence in the storyline, the filming is bad, the stereotypes are ablaze (or was this camp? I couldn't tell), the dialogues are trite. The latter could be attributed to the bad dubbed version I saw, everything else couldn't. Unfortunately a bad, bad film based on a good idea. If you want to see a gay-themed football movie, I recommend the German film "Guys & Balls", which is a hilariously campy and sweet take on the same subject matter.
Eleven Men Out (Strakarnir okkar) Quotes
There are no approved quotes yet for this movie.