Tropa de Elite (The Elite Squad)
(2007)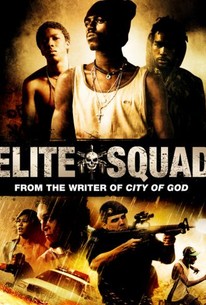 TOMATOMETER
AUDIENCE SCORE
Critic Consensus: Brutal, action heavy, Brazilian cop film with a pointless voiceover. Lacks flair, overdoes the violence and is never quite sure where its morals lie.
Tropa de Elite (The Elite Squad) Photos
Movie Info
For decades, the South American metropolis of Rio de Janeiro, Brazil, has clocked in as staggeringly lethal. Its violence-scarred and blood-strewn ghettos (or "favelas") are regularly patrolled by crazed drug gangs whose open-fire battles with police often spread out onto the main thoroughfares and turn ordinary civilians into casualties. In response, the Brazilian government formed a crack paramilitary force known as the BOPE (Batalhão de Operações Policiais Especiais, or Special Police Operations Battalion) to take matters into its own hands. Now, director José Padilha's social-consciousness drama Tropa de Elite carries viewers inside of BOPE for a scathing indictment of the cycle of violence that permeates Brazilian society, scripted by 12-year-plus BOPE veteran Rodrigo Pimentel. Wagner Moura (Hector Babenco's Carandiru) stars as Captain Nascimento, the leader of a BOPE unit who is seriously considering retirement in the face of his impending fatherhood. In an effort to pick his successor, he looks to two younger recruits, part-time law student André Matias (André Ramiro) and the bellicose hood Neto (Caio Junqueira) -- but soon recognizes that these naïve men will need to seriously mature before one can take the reins. Inevitably, the events that each encounters on the roughshod Brazilian streets -- particularly a trip to clean up some of the neighborhoods in anticipation of the pope's visit -- begin to shape and redefine them in ways that neither can even begin to anticipate. Meanwhile, BOPE grapples with its own internal problems -- particularly the extreme corruption and underhandedness of each squad leader, whose sideline activities range from resupplying weapons to gangs to the racketeering of strip clubs. ~ Nathan Southern, Rovi
Critic Reviews for Tropa de Elite (The Elite Squad)
Audience Reviews for Tropa de Elite (The Elite Squad)
½
To dismiss this uncomfortable film as "fascist" like many did (and still do) is in itself an unfair and dangerous simplification, given the complex picture that Padilha draws of Brazilian society - a tragedy, actually - where violence seems to be the only way to combat crime and violence.
Carlos Magalhães
Super Reviewer
½
This is documentary-style filmmaking at it's most raw and forceful; it'll hit you like a freight train! "Elite Squad" is a landmark of Brazilian cinema. Picking up where "City of God" left off, this film inhabits the same world as that masterpiece but plays by it's own rules and has a fresh new perspective to share. The constant comparisons are almost unjust considering what a singular effort Director Padhilha's movie is. It's got a sense of tension and urgency that most Hollywood action pictures yearn for.
½
An excellent and spectacularly entertaining movie. It`s truly terrific to watch and dose not get boring for a minute and keeps you on the edge of your seat. It packs a pure power-punch of intensity that knocks you flat out with its explosive action, strong performances and brutal honesty. Movies don't get more real or more powerful than this. A masterpiece. Director, Jose Padilha crafts an stylish, dark and gripping police drama like no other. A groundbreaking achievement that earns it`s right to be called a classic. A heart-pounding action-packed thrill-ride that's loaded with pulse-pounding drama and thunderous gun-battles that take you to the limit. A total adrenaline-rush from start to finish. A hard-boiled and exhilarating piece of work that deserves attention. It shows that grim reality of gang-related violence, inner city and police politics that the necessary evil they need to achieve their objectives. The cast is extraordinary. Wagner Moura gives a powerful and sensational performance. I loved this movie. It rocks and rocks profoundly.
Tropa de Elite (The Elite Squad) Quotes
There are no approved quotes yet for this movie.