Stonehearst Asylum
(2014)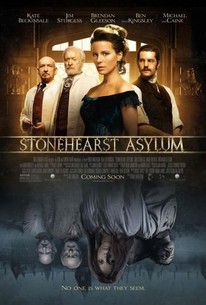 TOMATOMETER
AUDIENCE SCORE
Critic Consensus: Stonehearst Asylum offers over-the-top fun for genre aficionados; for others, however, it's likely to prove a dull disappointment.
Stonehearst Asylum Photos
Movie Info
When young doctor Edward Newgate (Jim Sturgess) arrives at Stonehearst Asylum in search of an apprenticeship, he is warmly welcomed by superintendent Dr. Lamb (Ben Kingsley) and a mesmerizing woman by the name of Eliza Graves (Kate Beckinsale). Edward is intrigued by Lamb's modern methods of treating the insane until a series of unusual events leads him to make a horrifying discovery, exposing Lamb's utopia and pushing Edward to the limits of his conscience. Inspired by a short story from Edgar Allan Poe, Stonehearst Asylum is a tale in which nobody is who or what they appear to be. (C) Millenium Entertainment
News & Interviews for Stonehearst Asylum
Critic Reviews for Stonehearst Asylum
Audience Reviews for Stonehearst Asylum
½
Clever, well-acted, and entertainingly executed, Stonehearst Asylum is a nice under-the-radar psychological thriller piece. In it, we find a recent medical school grad taking up a position at a mental institution, turn of the century, only to find things are not as they seem. There are twists, turns, and horror, albeit with some raised eyebrows. That Stonehearst is even remotely compelling is due mostly to its cast, a talented ensemble team. None more exciting to watch, however, than Ben Kingsley, whose embodiment of his character steals the attention in every scene. To be sure, the twists do start to get ahead of the film, and the third act almost falls apart. Yet, the originality in the beginning, and the slow unveil make it standout, along with the strong performances. Interesting. 3.5/5 Stars
Jeffrey Meyers
Super Reviewer
½
It's the acting department that sells this thriller set inside a mental institution as a young doctor slowly uncovers something amiss at the old isolated lunatic asylum for the rich and famous out in the middle of nowhere. (If you're gonna be anywhere with a lunatic, is there any place better than the middle of nowhere? And you can't answer if your married.) Michael Caine and Ben Kingsley ground the piece with their usual aplomb, framing the action in believability and setting up the matinee idols of Sturgess and Beckinsale for romantic fumblings in a padded cell ...
Kevin M. Williams
Super Reviewer
½
A movie with more of a sense of humor than you'd expect given the plot. I think that and how the story was structured kept this from being an absolute mess. I do think that the movie is all over the place without a real focus. It jumps back and forth between numerous plots. Like Lamb overthrowing Salt, the romance between Graves and Newgate, the inhumane medical experiments that Salt performs on the people instituted here, the fact that the people here are treated as embarrassments that should be kept away from the main populace, and their wealthy relatives, for the rest of their natural lives, Lamb's atrocities in the way, and how Newgate adjusts to how the different methods that Salt employs versus those of Lamb's. So it's all over the fucking place really. I think the humor, while part of what I liked about the film, wasn't quite as dark or macabre as it could've been. It was just missing that edge to me. Another positive about the film is how it plays the different sides against each other. You're never quite sure whom you trust more. Granted Lamb comes across more effective in his methods of treating the insane in a more human manner. But at the same time, he's the type of man that, if discovered, would bring everyone down with him. So they do a good job at not making things so black and white. I wouldn't exactly call it complex shades of grey, but there are slight shades of grey nonetheless. The film is really well-cast. All the leads are incredibly consistent actors, so the film, on that front, is very good. No award winning performances, but it's really well-acted. I thought this film had some silly moments and it's a little over-the-top sometimes, which is good for this type of period film. But I just found the film to lack a focus that would've made this much better. It's also pretty inconsistent, but it's not a bad watch by any means. It's just one that should've been better considering the talent involved here. I had some fun watching this, even if it wasn't what I would call a good movie.
Jesse Ortega
Super Reviewer
Stonehearst Asylum Quotes
There are no approved quotes yet for this movie.