Elizabethtown
(2005)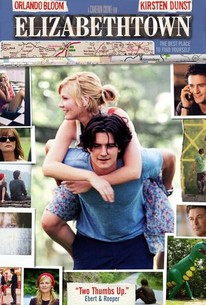 TOMATOMETER
AUDIENCE SCORE
Critic Consensus: This story of a floundering shoe designer who returns home for a family tragedy gets lost in undeveloped plot lines and lackluster performances.
Movie Info
Cameron Crowe's Elizabethtown stars Orlando Bloom as Drew Baylor, a successful shoe designer, who as the film begins suffers a profound career setback that earns him the ill will of his boss (Alec Baldwin), and he learns that his estranged father has passed away. On the flight to his hometown, he makes the acquaintance of an eccentric stewardess named Claire (Kirsten Dunst). Susan Sarandon plays Drew's mother, a widow with an unusual sense of how to properly mourn her deceased husband. During the course of his stay with his extended family, Drew rediscovers what is important about life and falls in love with Claire.
News & Interviews for Elizabethtown
Critic Reviews for Elizabethtown
Audience Reviews for Elizabethtown
Things I Liked About "Elizabethtown" Upon Second Viewing 1. Orlando Bloom's performance. Despite having contracted Orlando Bloom Fever at the beginning of his mainstream career, with each "Pirates" and "LotR" installment, I got wearier and wearier of his pretty boy, dainty-featured backpfeifengesicht - German for "a face in desperate need of a fist." I felt a bit of that repulsion in the first few minutes of this viewing, but I eventually made peace with the delicate flower of his visage and was really impressed with his acting, especially during the road trip montage when he's alternately crying and laughing to himself. 2. The heartwarming midwest community. I saw this for the first time in northern Virginia, so perhaps I didn't understand the midwest mentality until I lived in Indiana. My daily life isn't quite like the family portrayed here, but even I was moved at the sequence of Drew first driving into Elizabethtown and seeing everyone waving and smiling at him with faces of seeming recognition, welcoming back the Prodigal Son. 3. The memorial ceremony turned into raucous fire and blazes, accompanied by Ruckus's indomitable cover of "Free Bird." 4. Claire's thought and effort of creating an emotional road trip for Drew to scatter his father's ashes. Things I STILL HATE About "Elizabethtown" Upon Second Viewing 1. Kirsten Dunst. I didn't find her or her character, Claire, charming, cute, deep, or romantic (like NaPo's Sam in "Garden State" and even she's only likeable in small doses). "Elizabethtown" came during that dryspell after Kiki had outgrown her lost prodigy depth and bubbly cheerleader charm - which yielded such lifeless and/or annoying performances as in "The Cat's Meow," "Spiderman," "Eternal Sunshine," "Wimbledon," and this - and before she rebirthed herself as melancholic muse for the likes of Sofia Coppola and Lars von Trier. Her Kentuckian accent is terribly...not, and she plays Claire as much too self-deprecating (half-laughing through the big "I like you!" line), as if the actress didn't even buy the character's quirkiness. Claire herself is just a girl. She recites some manic pixie dreamgirl juxtapositions that seem delightfully incongruous, but then prove to be ACTUALLY incongruous and faux-inspired, e.g. "I'm impossible to forget, but I'm hard to remember." "Men see things in a box, and women see them in a round room." Is she? Do they? 2. The so-called fiasco involving Drew's shoe design. There's so much pretentious, aphoristic talk about fiascos and failures, but what exactly WAS the fiasco? What was wrong with the shoe? How could such a promising young podophile possibly think this vaguely Skechers Shape-Up prototype would work, and how did no one else notice its Achilles' Heel, if you will? The fact that none of this is ever revealed shows how little legitimate research on the shoe industry Cameron Crowe did. For one, it's lazy writing and directing. For two: see below. 3. The light treatment of suicide. This needn't have been a sadder movie, but it IS realistic at least, for all intensive porpoises. Without the grounding exploration of what failure means in the shoe industry, Drew's subsequent obsession with suicide is purely comical and absurd, not intellectual or existential. I'm never actually worried for or in suspense about his mortality. Also, the repercussions of the fiasco are only limned in monetary terms. Drew never expresses critical doubt about his mental, intellectual, social or self worth, which are more compelling problems than just the Benjamins. Even after Claire admits her burgeoning feelings for him, his immediate response is to blithely cite his date with destiny? Suicide's just a quirky appointment, not something that he is seriously debating cuz I'm sure after meeting his manic pixie dreamgirl, he'd be more apt to wine and dine the girl, not slice and dice his veins. 4. Hollie's tap dance. Okay, I normally love DANCE in movies, but I just wish this number was a little better. I know Hollie had just learned to tap dance on a whim in her grief, but the choreography was more soft shoe than tap. After her standup routine (which I didn't like although I do understand its purpose of diffusing grief), I just wasn't moved or impressed by the dance, and I wanted either more emotion or better execution. 5. The "last look" at the memorial. I was already irritated by the quirkiness of Drew "collecting last looks" and Claire clicking her mental camera, and Crowe managed to mess it up in the one place it could work. Amid the smoke, sprinklers, and Skynyrd, Drew looks up to the stage one last time, presumably at the sad but oddly jubilant tableau of his father's smoldering portrait and this utter shitshow, and thinks that this is a good last look, only to reveal Claire as the subject of his observation. It's not even that good of a last look, and it's clearly not the last time she'll be seeing him. I could buy it if it was a goodbye to his father and to the vagaries of the midwest. 6. The fact that everyone loves the soundtrack. I think it's overrated. Many of the songs sound like the same indie moaning. I prefer "Vanilla Sky"'s soundtrack.
Alice Shen
Super Reviewer
½
This is my second time watching this and 1 hour in I am removing this from the DVD player and my collection. It totally bores the hell out of me. I like Kirsten Dunst, and she is charming here as Clare, but it is not enough to save this film and she's not in it enough. Unconvincing on almost every level, Orlando cannot hold a film for two hours.
Nicki Marie
Super Reviewer
The movie sucked and made kittke sense by the soundtrack was excellent, shame James Brown with thats life didn't make the sound track. Movie gets 2 stars, Soundtrack gets 5 stars
Bruce Bruce
Super Reviewer
Elizabethtown Quotes
| | |
| --- | --- |
| Claire Colborn: | We're the substitute people, remember? |
| | |
| --- | --- |
| Claire Colborn: | You want to be really great? Then have the courage to fail big and stick around! Make them wonder why your still smiling.. That's true greatness to me. But, don't listen to me, I'm a Claire. |
| Drew Baylor: | Well, Thank you Claire.. |
| Claire Colborn: | You're welcome. If you quit trying to break up with me. You're always trying to break up with me. And we're not even together. |
| Drew Baylor: | I know. Wait, we're not? |
| Claire Colborn: | Of course not. We're the substitute people remember? |
| | |
| --- | --- |
| Claire Colborn: | I'll miss those lips and everything that is attached to it. |