Elmer Gantry
(1960)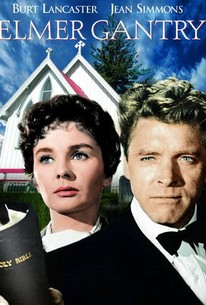 Movie Info
Elmer Gantry (Burt Lancaster), a drunken, dishonest street preacher allegedly patterned on Billy Sunday, wrangles a job with the travelling tent ministry conducted by Sister Sharon Falconer (Jean Simmons). Thanks to Gantry's enthusiastic hellfire-and-brimstone sermons, Sister Sharon's operation rises to fame and fortune, enough so that Sharon realizes her dream of building her own enormous tabernacle. These ambitions are put in jeopardy when a prostitute (Oscar-winning Shirley Jones), a former minister's daughter who'd been deflowered by Gantry years earlier, lures Gantry into a compromising situation and has photographs taken. It took several years for any Hollywood studio to take a chance with Sinclair Lewis' novel, and when it finally did arrive on the screen, producer/director Richard Brooks was compelled to downplay some of the more "sacrilegious" passages in the original. Also appearing in Elmer Gantry are Arthur Kennedy as an H.L. Mencken-style atheistic journalist, and Edward Andrews as George Babbitt, a character borrowed from another Sinclair Lewis novel. ~ Hal Erickson, Rovi
Critic Reviews for Elmer Gantry
Audience Reviews for Elmer Gantry
A snake-oil preacher woos a revivalist, and together they build a following, but will his dishonesty hurt their partnership more than his charisma helps their cause? Burt Lancaster's finest performance showcases his over-the-top antics and his remarkably seductive charm and his ability to convey a soulful depth of character. He rises to the challenge of the perfect part for his talents. Jean Simmons, always demure, also gives a strong, subtle performance as Sister Sharon Falconer, a well-meaning but manipulated revivalist. The film's satire pillories ignorance and theft more than it levels its glass at religious fervor. It doesn't suggest that religion is bullshit because we see a proper refutation in the person of well-meaning religious people, but it does say that people are no more easily manipulated than when they are are pushed by either faith or their genitals. Seems like apt criticism to me. Overall, your patience with this film will depend on your reaction to Lancaster's antics and the film's thesis.
Jim Hunter
Super Reviewer
½
I find it very difficult to believe that Elmer Gantry made in to movie screens in 1960. It almost seems like a lynchpin or things to come in the decade. Religious satire mixed with the amazing performance of Burt Lancaster. Unbelievable. There's also a great performance from Jean Simmons, as well as fantastic direction from Richard Brooks. There's also some great photography and location work on display to boot. Oh, and a fantastic script from beginning to end. A brilliant little film.
Tim Salmons
Super Reviewer
½
Richard Brooks mesmeriising adaptation of Sinclair Lewis's book (--- what's killing Christianity is not unbelievers on the outside but rather the phony piety of those professing belief---) is chock full of noteworthy performances and riveting scenes as a silky smooth talking con man joins a Christian tent revivalist across America's Bible Belt. The film actually begins with a printed warning to keep youngsters away ... nuff said.
Kevin M. Williams
Super Reviewer
Elmer Gantry Quotes
| | |
| --- | --- |
| Elmer Gantry: | Well, as long as I got a foot, I'll kick booze. And as long as I got a fist, I'll punch it. And as long as I got a tooth, I'll bite it. |
| Elmer Gantry: | And when I'm old and gray and toothless and bootless, I'll gum it till I go to heaven and booze goes to hell. |