The Elusive Corporal
(1962)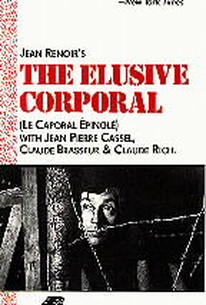 Movie Info
The eponymous French corporal, played by Jean-Pierre Cassel, is ensconced in a German POW camp. Cassel plots with his friends Claude Brasseur and Claude Rich to escape, but all three are recaptured. When the corporal plans another getaway, he finds that one of his chums isn't interested anymore. After a brief liaison with the daughter of a German dentist, Cassel once more tries to break out...and once more...and once more. Finally free from his captors, Cassel joins the resistance with his loyal pal Brasseur. The Elusive Corporal was a return to the themes of freedom and personal dignity inherent in Jean Renoir's earlier La Grande Illusion (1938); alas, Renoir had very little control over the final cut of the later film, and tended to dismiss the whole project as a mere "entertainment" in his declining years, though he remained proud of his closing panorama shot of Paris, which wordlessly expressed the euphoria of freedom. ~ Hal Erickson, Rovi
Critic Reviews for The Elusive Corporal
Audience Reviews for The Elusive Corporal
"The Elusive Corporal" starts with the French capitulation to German forces in 1940. All Guillaume(Jean Carnet), a soldier, wants to do now is return home and tend his pigs but the Nazis will not let him or any other French soldier leave. While the war may indeed may be over for the French, it is only just the start for the Nazis in trying to conquer all of Europe. That does not stop The Corporal(Jean-Pierre Cassel), Pop(Claude Brasseur) and Ballochet(Claude Rich) from giving it the old college try. Actually, Ballochet backs out at the last second while The Corporal and Pop are captured with a minimum of force. Next time will be harder since they are all being sent to Germany. Directed by Jean Renoir with his customary finesse, "The Elusive Corporal" is a very engaging and life affirming tale of war that is more about rebelliousness than bravery. A lot of class conflict is touched on in the movie, especially around The Corporal who despite his wealthy background is only an enlisted man and I think a lot of that has to do with his problems with authority which never goes down that well in the armed forces. That also explains why he is consistently the only one to go over the wall, risking being sent off to a fortress(Colditz, perhaps?), as most of the other soldiers just try to get along. I did not understand his obsession with returning to France since that is now occupied territory(and I hear Switzerland is nice this time of year) until the final scene.
a few moments that border on melodramatic for '62 but also nuanced moments of beauty and thoughts about freedom; Cassel is great
Adam Mahler
Super Reviewer
The Elusive Corporal Quotes
There are no approved quotes yet for this movie.