Elvira, Mistress of the Dark
(1988)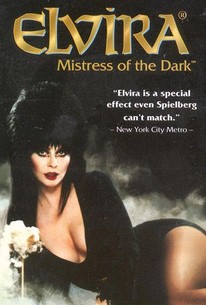 Elvira, Mistress of the Dark Photos
Movie Info
When horror queen Elvira finds herself the inheritor of a late aunt's estate, she moves into a large mansion in a small New England town. There the saucy, buxom entertainer clashes with the more conservative residents of her new hometown in this fish-out-of-water comedy.
Critic Reviews for Elvira, Mistress of the Dark
Audience Reviews for Elvira, Mistress of the Dark
½
First came Morticia Addams in the 30's from cartoonist Charles Addams, then along came Maila Nurmi and her classic B-movie/TV horror host creation Vampira, then finally in the 80's America introduced us to Elvira. It turns out Elvira was actually used to host the TV show 'Fright Night' after Maila Nurmi quit the show. The 'Fright Night' show bosses needed a new host in the same vain as Vampira so they simply put out a casting call for someone to fill the role. Cassandra Peterson got the part and created the new image for the Vampira-esque host. Although another source says the bosses hired Peterson to play the new Vampira without telling Nurmi. Hence Nurmi quit on creative difference and tried to sue Peterson. Either way both creations are clear rip offs from Charles Addams original lady in black. Elvira is pretty much the pinnacle of mid 80's American culture. That trashy Guns n Roses, G.I.Joe, Garbage Pail Kids, bubblegum MTV pop culture era where gory horror films were rampant, Freddy Krueger was virtually a national icon, gruesome toys like Madballs and My Pet Monster were the norm, whilst gruesome toys like Teddy Ruxpin and Cabbage Patch Kids were scarily suppose to be harmless brrr. Yes I lived in the US back in 87 so I know. It always amazed me how things like Elvira got on TV, but I guess with literately hundreds of TV channels there's a place for everything. Something that kids (and adults) back in the UK at the time found astonishing, the thought of so many channels including ones solely for cartoons!!. This film was pretty much an extension of a very simple idea to simply push the franchise further. There really is no plot involved whatsoever, Elvira turns up in a typical squeaky clean wholesome all American town to claim inheritance from her dead great aunt. Naturally this makes all the bland dull good little housewives of the town jealous and upset of this slutty gothic temptress, can you see where this is going yet?. Oh and Elvira's evil uncle is the local Warlock trying to take over the world by getting his hands on an ancient spellbook that Elvira has just inherited, simple. So apart from the odd moment of cheesy rubber hand puppet horror and evil sorcery the film is mainly chock full of sexual innuendo's or dirty double entendres, pretty much revolving around Peterson's ample boobies or ass. She has her razor sharp sarcastic wit, well kinda, its not really funny, more predictable and catty if anything. The mansion she inherits is your typical 'Munster' type establishment with complimentary interior, not a long shot from 'The Addams Family' either of course. The film is soft and hammy but good natured I suppose, there is nothing really threatening here as we all know the score. When I was a kid I found the sight of fishnet stockings and tight black leotards extremely interesting, I still do of course but the film definitely feels more risky and sexual to the impressionable young male mind. One of those ideas that works much better with a regular TV slot. Not a horrible film but hardly something to remember, more of a fun history lesson in 80's Americana. The Vegas finale dance routine is slightly naughty with some revealing outfits but I'm not complaining.
Phil Hubbs
Super Reviewer
[img]http://images.rottentomatoes.com/images/user/icons/icon14.gif[/img]
Directors Cat
Super Reviewer
Trashy fun. I don't really remember seeing Elvira on TV, but she's funny here. It is not a good movie by any stretch of the imagination, but it's very 80's, which is a plus, and I found it entertaining enough.
Nicki Marie
Super Reviewer
Elvira, Mistress of the Dark Quotes