Elvira's Haunted Hills
(2001)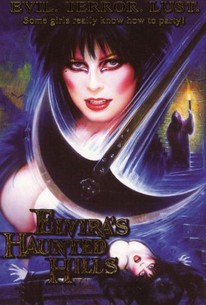 Movie Info
The setting is Carpathia. The year is 1851. When Elvira gets kicked out of an inn for a slight monetary discrepancy, she is rescued by a local who takes her to stay at the castle in the hills high above the village. The fact that she happens to resemble the count's former "missing" wife opens a can of worms or two.
Critic Reviews for Elvira's Haunted Hills
Audience Reviews for Elvira's Haunted Hills
½
Bit late in the day for a sequel isn't it?! the first film came out way back in 88!. Despite the long hiatus Peterson still looks the business I gotta admit. Her two best friends are still big n bold whilst the rest of her still appears to be pretty fit. As for the film, well its a bit of a change of pace from the first. Where as the first was a light-hearted, slightly cheeky, goofy horror which was at least treated like a proper film. This sequel is more like a British 'Carry On' comedy, kinda leaning towards a spoof with cheesy slapstick, cheesy dialog, cheesy sets, hammy acting and of course lots of childish sexual innuendos...what did you expect?. It seems to be a prequel if anything as the film is set in the 18th Century in the Carpathian mountains. Elvira and her maid are running from their landlord trying to skip the bill and get picked by a caddish professor who takes them to the local cursed castle. Whilst there various silly things happen as the plot unravels in a 'who dunnit?' type murder mystery/family curse type of thing. Nothing to do with the first film. Its all very stupid and looks pretty cheap, the only real highlight for me was the rare sight of Richard O'Brien portraying the castles owner Lord Vladimere Hellsubus (great name). Not sure why the cult star has agreed to star in this puerile silliness, I guess a chance to simply let loose and chew up the scenery perhaps. Influenced by Hammer Horror and Roger Corman films yet much much more B-movie-ish. Its still reasonable fun but I guess you gotta like the character of Elvira, mind you if you like trashy horror/spook flicks then this might appeal also. I quite liked it for the atmosphere and outrageous characters, camp fun.
Phil Hubbs
Super Reviewer
The Mistress of the Dark is back for another terrifying adventure in Elvira's Haunted Hills. Set in 1851 Carpathia, cabaret performer Elvira is offered food and shelter at a local castle, but she starts to suspect that something mysterious is going on when she discovers that the lord's dead wife looks exactly like her. The film is basically an homage to the Hammer Horror and Vincent Prince films of the '60s, and on that level it sort of works. However, the performances are rather weak, and Elvira's sass and attitude seem out of place in this setting. The directing is also lackluster and doesn't add much to the material. Elvira's Haunted Hills isn't quite as clever or as fun as the first film, but it tries some interesting things and delivers a few laughs.
Dann Michalski
Super Reviewer
½
Elvira's Haunted Hills is a film with an uninspired plot which no amount of cleavage or sexual humor can make up for. In fact, the sexual humor simply worsens the film. I wouldn't recommend this film unless you simply can't get enough of Elvira, and I found out, through this film, that I can.
Horrific Reviews
Super Reviewer
Elvira's Haunted Hills Quotes
There are no approved quotes yet for this movie.