Elysium
(2013)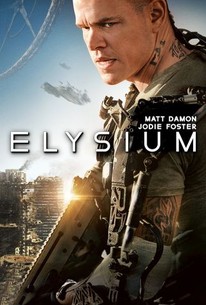 TOMATOMETER
AUDIENCE SCORE
Critic Consensus: After the heady sci-fi thrills of District 9, Elysium is a bit of a comedown for director Neill Blomkamp, but on its own terms, it delivers just often enough to satisfy.
Movie Info
In the year 2154, two classes of people exist: the very wealthy, who live on a pristine man-made space station called Elysium, and the rest, who live on an overpopulated, ruined Earth. The people of Earth are desperate to escape the planet's crime and poverty, and they critically need the state-of-the-art medical care available on Elysium - but some in Elysium will stop at nothing to enforce anti-immigration laws and preserve their citizens' luxurious lifestyle. The only man with the chance bring equality to these worlds is Max (Matt Damon), an ordinary guy in desperate need to get to Elysium. With his life hanging in the balance, he reluctantly takes on a dangerous mission - one that pits him against Elysium's Secretary Delacourt (Jodie Foster) and her hard-line forces - but if he succeeds, he could save not only his own life, but millions of people on Earth as well. -- (C) Sony
Critic Reviews for Elysium
Audience Reviews for Elysium
½
Aside from Jodie Foster's over-the-top performance and an irritating shaky camera that makes it hard sometimes to follow what is happening in the action scenes, Blomkamp really hits the mark with this efficient sci-fi that is entertaining and even thought-provoking.
Carlos Magalhães
Super Reviewer
½
With the subtlety of a sledgehammer to the face, Elysium is a sci-fi action movie with more on its mind than pyrotechnics. It's writer/director Neill Blomkamp's follow-up to 2009's out-of-nowhere hit, District 9, a film so good that the Academy even nominated it for Best Picture that year, a rarity for a sci-fi flick. The apartheid allegory of District 9 was pretty straightforward, but Blomkamp and company found inspiring and fresh ways to tell a rousing story that worked in tandem with its social commentary. Elysium takes the haves and have nots to an admittedly extreme. In 2154, the rich have left Earth for a floating space station known as Elysium. It's a luxurious paradise where technology can miraculously zap people to complete health. Secretary Delacourt (Jodie Foster) is in charge of Homeland Security and protecting Elysium from the less desirables that want to break in. Those "less desirables" would be the inhabitants of Earth. The planet has become an overcrowded, dirty, impoverished slum; Earth as third world. Max (Matt Damon) is an excon working a factory line for a sneering corporate bigwig (William Fichtner) struggling to leave behind a life of crime. His childhood friend, Frey (Alice Braga), works as a nurse at a hospital, but she's got her own worries, namely a terminally ill daughter. After an accident at work blasts Max with radiation, he has five days to live. If he can just make it to Elysium, he can be cured. The problem is that Delacourt is shooting down spaceships trying to land on Elysium, including ones filled with women and children. To get off planet, Max needs to help in a heist, but it's prized codes that could lower the defenses of Elysium and make anyone (ANYONE!) a citizen, thus available for medical treatment. To make sure this doesn't happen, Delacourt relies on a rogue mercenary, Kruger (Sharlto Copley), a crazed madman who leaps at the chance to do dirty work. The hunt is on for Max. The socio-political commentary isn't terribly veiled here, and maybe that's because now Blomkamp has bigger targets than South Africa's governmental policy. I didn't have a problem with the fact that the inhabitants of luxury are portrayed as all white and that the denizens of the impoverished Earth are mostly non-white minorities (if minorities dominate a future Earth, when do they become majorities?). It's clear that Blomkamp intends for Elysium to represent the United States. The poor who break through into the Promised Land, many to give their children a better life, or a life at all, only to be deported back to a slum, are clear stand-ins for contemporary immigration, notably Latin America. This is all fine by my book, though I can already hear the persecuted cries of some conservative commentators. It's not as refined a commentary and that's fine, not every message needs to be subtle, but I want more with my message than a simple rich vs. poor allusion. We never get to see what the people of Elysium are like, nor what most of that world is like beyond wide idyllic imagery. Fichtner's character does a good job of symbolizing the callousness of an elite, but then he's just one guy. The difficulty of maintaining a working wage is given the most care in the film, but much of the higher thinking takes a backseat for the third act movie heroics. The shift is acceptable but it makes a thin development of socio-economic commentary that much thinner. When it comes to action, Blomkamp certainly knows how to stage a scene to get your pulse racing. The only problem is that there isn't terribly much action to Elysium, or at least methodically sustained action to satisfy. You always feel like you're getting a taste of something cooler down the road but it never fully materializes, much like the exoskeleton suit. It looks cool, it provides some progression, but it doesn't lead to much. What does it accomplish? It allows him a port into downloading the Elyisum codes, but so could anything else. If anything, the metal exoskeleton seems like more of a hindrance, dragging Max down with extra weight and bulk. It pains me to say that the cool exoskeleton, such a prominent marketing feature, could have easily been eliminated as well. The best action in the movie is a heist in the middle that manages to juggle a team of good guys, a team of bad guys, a mark, and a deep sense of urgency for the score. It's terrific and makes fun use of Blomkamp's inventive future weapons. The rest of the film is mostly a series of chases, many of which are well orchestrated but only flirt with long-lasting action satisfaction. The third act on Elysium is an entertaining and noisy conclusion, except Blomkamp sets himself up for limitation. Some spoilers to follow so tread carefully, reader. Elysium gets taken over by Kruger and his team as a defacto coup... except, well there are only three of them. We don't even get to see them train the robot sentries on enemies or the populace of Elysium. I really don't know how far-reaching their hastily staged coup is going. We want Kruger to be the big baddie that Max has to fight right before the cusp of the climax, but when there are only two other dudes who aren't making great use of their fancy resources, it feels too boxed in and restrained. The action is fun while it lasts. Another niggling concern is the glut of side characters and their side stories that don't feel organically integrated into the hero's story. The flashbacks to Max as a kid could have been completely wiped out. They don't add more information to the story and feel a tad too hokey for the movie. Sister Saintly Nun espouses wisdom and promises Max will be destined for one great thing in the future (could I settle for two "kinda good" things?). The bigger distraction is Frey and her sick kid, a.k.a. the Angelic Sick Child, you know, the type that feels so at peace with things and with no worry. This is a staple of the movies. Her only purpose in the narrative is to goad Max into making a bigger sacrifice, to think of others, not that beforehand the guy was displayed as being particularly selfish. Then there's Max's friend Julio who serves little purpose other than to carry him out of the occasional scene and to, of course, be sacrificed to drive the hero forward to achieve his goal. There's a middleman who arranges for people to get identities that will be read on Elysium, if they get on there safely first. The villains are also pretty one-dimensional in their stock villainy: Kruger a sociopathic killing machine and Delacourt a tyrant. None of these characters leave much of an impression to make you want to take time away from the main story arc. Worse, many of them feel vaguely characterized and are clear plot beat generators rather than people. Maybe Max would be better off as a loner. The acting is also all over the place. The worst offender is Foster (Carnage), who weirdly over enunciates every syllable in an affected future accent. She also seems to bob and swivel her head a lot as she talks, as if the Oscar-winning actress really had to go to the bathroom but was holding it at bay to complete her takes. Damon (Promised Land) is a reliable action hero but realistically, it's a little curious that the main character would be, by all accounts, white. It makes much more sense for the savior of planet Earth to be like those left behind, but then I don't really want to wade into deeper racial subtext than necessary. The real treat of the movie is Copley (The A-Team) who is having a ball playing a sword-wielding psycho killer. He provides a notable spark whenever onscreen, brining a menace that makes you tale notice. Again, I just wish there was more to the character than his vague back-story and blunt motivations. Despite what has seemed like a fairly negative review from the start, Elysium still a good movie but beware higher expectations forged from District 9's unique alchemy. There are a lot of familiar plot beats here and everything from the characters, to the action, to the world building feels like it could have been pushed further. It feels like they took the freshness of District 9 and applied it to a more tired-and-true blockbuster formula. Blomkamp drops us into an intriguing world but I wanted more of just about everything. More with the characters, more with the plot, more with the socio-political commentary, more with the ins and outs of this future world and its inhabitants. The ending is also a bit jubilantly naïve given the powers of the Powers That Be. Really, a keystroke sets everything back to scratch. Again, I'm being more critical than I intend to be. Elysium is quite an entertaining movie with great visuals and Blompkamp is certainly a visionary auteur to praise, but it's hard not to feel a smidge of disappointment with the man when you know what he's capable of, even with a perfectly fine movie Nate's Grade: B-
Nate Zoebl
Super Reviewer
½
So much noise. So little purpose. Very little entertainment value.
Elysium Quotes
| | |
| --- | --- |
| Kruger: | I always wanted a wife. I could never get around to settling down. But I'd settle down for you. You make me want to settle down. |
| | |
| --- | --- |
| Secretary Delacourt: | Have you completely lost your mind? |
| Secretary Delacourt: | You're useless to me. |
| | |
| --- | --- |
| Kruger: | I'm sorry that we crashed the vehicle and ruined someone's lawn. |
| Kruger: | But nobody is gonna hang us for treason. |
| Kruger: | We do the hanging! |
| | |
| --- | --- |
| Secretary Delacourt: | Command: Cancel! |