The Emperor's Club
(2002)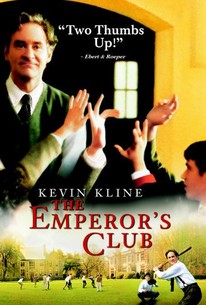 TOMATOMETER
AUDIENCE SCORE
Critic Consensus: Though Kline is excellent in his portrayal of Hundert, the movie is too dull and sentimental to distinguish itself from other titles in its genre.
The Emperor's Club Photos
Movie Info
A dedicated teacher learns some important lessons about himself years after he retired from the classroom in this drama. William Hundert (Kevin Kline) is an instructor at St. Benedict's School for Boys, an exclusive private academy on the East Coast where Hundert drills his charges on the moral lessons to be learned through the study of Greek and Roman philosophers. Hundert is fond of telling his students, "A man's character is his fate," and he strives to impress upon them the importance of the ordered and examined life. In 1976, however, Hundert finds himself with an especially challenging group of students -- party-minded Fred Masoudi (Jesse Eisenberg) , introverted Martin Blythe (Paul Dano), bright but mischievous Deepak Mehta (Rishi Mehta), and most notably, openly rebellious Sedgewick Bell (Emile Hirsch). The son of a powerful politician, Bell pointedly runs against the current of Hundert's example, questioning the importance of the material, flouting the school's rules, talking out of turn in class, and devoting as much time to his interest in girls as in his studies. However, Hundert sees the possibility of great things in Bell, and encourages him to take part in the school's annual academic competition for the title of Mr. Julius Caesar. Hundert even goes so far as to bend the rules in scoring to favor Bell in the early stages of the contest, but his faith is betrayed when Bell is discovered cheating during the contest finals. Years later, Hundert is reunited with his students, where they learn the years have taught them all a great deal about their virtues and weaknesses. The Emperor's Club also features Harris Yulin, Rob Morrow, and Edward Herrmann.
Critic Reviews for The Emperor's Club
Audience Reviews for The Emperor's Club
½
Saw this at school and didn't like it at all. Good acting but the story is horrible and pointless
David O'Driscoll
Super Reviewer
A film you swear you've seen before a hundred times, that is saved by a wonderful performance by Kevin Kline. This whistful looks into the world of academia is beyond cliche, from the oopsy moment of Professor Kline playing baseball with his students (and predicably smashes a deep fly ball that careens into the headmaster's car window - gee, where have I seen that before.... in just about every film of this genre). Still, there is enough witty dialog and a certain moral question that makes me give this film a watchable rating (if you've got nothing better to do on a weeknight). The main dramatic point of the film is a competition held each year called Mr. Julius Caesar, wherein Kline, the professor, gives the topic for a series of essays on Greco/Roman history. Kline then grades the essays, and comes up with a composite score. The top three then have a head to head competition in front of the rest of the school, taking turns answering increasingly difficult questions. The moral question comes as Kline has befriended the son of a Senator, and is pleased that he has finally reached the difficult student - to the point where he judges with his heart and allows the boy into the top three (where of course he attempts to cheat). I found this entire exercise to be distastful, but I've always found that making judgements on subjective writing to be thus. When the film later tries to make amends for Kline's lack of fairness, it just adds to the mediocracy; after all, he is supposed to be the hero, that pilar of moral judgement who is so loved by his former students. The points are made, driven in with a sledgehammer and the sentimentality so saccarin that my teeth hurt - derailing some of the more subtle points concerning honor. This film is certainly no "Good Will Hunting", "The Great Debators" or even the cheeky "History Boys" - it's certainly not original, and really hasn't much new or important to say, even though at times it says it quite well. For that, you can forgive some of its transparancies and transgressions, like the weak attempt at a love interest for Kline - which was totally superflous and unneccessary. In conclusion, one of the film's messages is that victory without morality, or contribution to society, is hollow and not what will be remembered over time - just as this film will fade away and be forgotten.
paul sandberg
Super Reviewer
½
KEVIN KLINE, EMILE HIRSCH, PAUL DANO, JESSE EISENBERG, EDWARD HERRMAN, EMBETH DAVIDTZ, PATRICK DEMPSEY William Hundert, St. Benedict's assistant headmaster, practices what he teaches. Striving to inspire his students to live rightly, he's the kind of impassioned Classics professor who believes the history of the Greeks and Romans is more than just a lesson about the past. He also believes the role of a teacher is not only to educate the pupil but to mold his character. But in the fall of 1972, Hundert finds his cloistered world of tradition and influence upended with the arrival of new freshmen Sedgewick Bell, the son of a West Virginia senator. Almost immediately, teacher and student become embroiled in a turbulent battle of wills with repercussions that would still be felt a quarter of a century later. Kevin Kline is amazing in this movie just like he is in all his roles. Had some good other actors that I like in this movie as well like Emile Hirsch, Jesse Eisenberg, Paul Dano, Patrick Dempsey, and others. Had the feel of Dead Poets Society, but definitely two very different films. The resemblance is the all boys school, and the brilliant teacher. But besides that, two different tales. One is more of the story of a teacher and the other of its students. I do prefer Dead Poets Society over this one though. Probably because I have been a student and never a teacher. Kevin Kline was great, but so was Emile Hirsch. He is one of today's greatest young actor's in my opinion. Love his work. Had quite a few of young good talents in this movie including the elder ones that made this movie so great. Thought the ending was surprising. Probably not a movie for all. Some will probably find it a bit boring. It was in some parts. But the acting is what pulls this movie through. Worth the watch for the performances if nothing else.
♥˩ƳИИ ƜѲѲƉƧ♥
Super Reviewer
The Emperor's Club Quotes
| | |
| --- | --- |
| Professor William Hundert: | I am Shutruk-Nahunte, King of Anshan and Susa, sovereign of the land of Elam. By the command of Inshushinak, I destroyed Sippar and took the stele of Niran-Sin and brought it back to Elam, where I erected it as an offering to my god, Inshushinak. Shutruk-Nahunte 1158 BC |