The Emperor's New Clothes
(2002)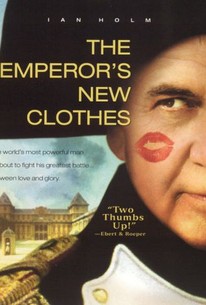 Movie Info
A fanciful retelling of the story of Napoleon Bonaparte (played by heralded actor Ian Holm, this British costume comedy suggests that it was Napoleon's double, not the man himself, who died on St. Helena Island. The film begins by presenting Napoleon after his defeat at Waterloo, at the home of a young boy (Tom Watson), where he watches a slide show of his actions and begins to tell his story. The film flashes back to Napoleon's six years of house arrest, when he dictated his memoirs to an aide (Murray Melvin). He has concocted a scheme with his sidekicks Montholon (Nigel Terry) and Bertrand (Hugh Bonneville) and a valet named Marchand (Eddie Marsan) to plant a double in his place so he can escape to Paris, where he can then reclaim his throne as emperor of France. Posing as a galley hand, Napoleon steals a ship, but mistakenly arrives in Belgium, where he must then make his way back to France by barge. When he finally arrives in Paris, he discovers his contact, Truchaut, has died, and he enlists the help of his widow Pumpkin (played by Mifune's Iben Hjelje). Unable to reveal his true identity, Napoleon kills time by using Pumpkin and other supporters to start a profitable business, and Pumpkin begins to find herself drawn to Napoleon, though knowing his real identity. The film was directed by American filmmaker Alan Taylor, who helmed the quirky 1995 comedy Palookaville.
Critic Reviews for The Emperor's New Clothes
Audience Reviews for The Emperor's New Clothes
[font=Century Gothic]"The Emperor's New Clothes" takes place in 1821 as Napoleon Bonaparte(Ian Holm) escapes from St. Helena after a six year exile, exchanging places with a look-a-like. The plan is for him to reach France by boat and the imposter to be revealed, allowing him to retake the throne. But the plan starts to go awry when the boat overshoots France, and he ends up in Belgium instead.[/font] [font=Century Gothic][/font] [font=Century Gothic]"The Emperor's New Clothes" is not the broad comedy I was expecting(though there is a little of that here). It is actually a gentle and poignant bit of speculation about history, dreams of glory and the people trying to recapture them. Through this, the movie conveys a subtle antiwar message. And Ian Holm sets the right mood with a magnificent performance. Only the pedestrian direction hurts the movie. [/font]
The Emperor's New Clothes Quotes
There are no approved quotes yet for this movie.