The Emperor's New Groove
(2000)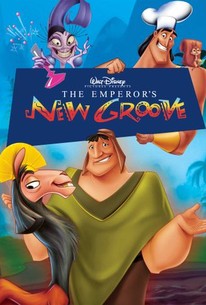 TOMATOMETER
AUDIENCE SCORE
Critic Consensus: The Emperor's New Groove isn't the most ambitious animated film, but its brisk pace, fresh characters, and big laughs make for a great time for the whole family.
The Emperor's New Groove Photos
Movie Info
In a mythical mountain kingdom, arrogant, young Emperor Kuzco is transformed into a llama by his power-hungry advisor, the devious diva Yzma. Stranded in the jungle, Kuzco's only chance to get back home and reclaim the high life rests with a good-hearted peasant named Pacha. Kuzco's perfect world becomes a perfect mess as this most unlikely duo must deal with hair-raising dangers, wild comic predicaments, and -- most horrifying of all - each other as they race to return Kuzco to the throne before Yzma tracks them down and finishes him off.
News & Interviews for The Emperor's New Groove
Critic Reviews for The Emperor's New Groove
Audience Reviews for The Emperor's New Groove
½
Based very very loosely on the Hans Christian Andersen tale (by the title only really, almost), this Disney flick came outta nowhere at the start of the new decade. At first appearances it didn't look or sound too good either truth be told. A weird title, David Spade in a Disney animation? offbeat looking animation and a wacky spoof-like approach, not exactly the stuffy classical Disney you'd expect. So yes this is a bold move away from the traditional cuddly Disney we all know of. The first thing you notice is the lack of musical numbers (thank God!), there are none I do believe, none whatsoever, and its quite refreshing giving more time for fun and story. The other thing that hits you is the change in pace animation and artistic style wise, no more Disney eyes folks. This film has a very vibrant zany blend of styles which sees a bit of old style Disney in characters, countryside and native dwellings, mixed with some cool straight symmetrically geometric shaped artwork for the royal Peruvian temples within the royal city. The visuals are glorious as usual with the Peruvian countryside and jungles looking lush and green with rolling hills, deep valleys and blue waters. On the flip side the royal palaces and temples are adorned with beautiful symmetric carvings in the walls, massive angular sculptures and lots of uniform guards. The palace tends to be more golds reds and yellows at first but when 'Yzma' takes over everything goes purple and blue. I especially liked the neon flurry of purples, pinks and blues down in the laboratory, that was a bizarre inclusion out of the blue (no pun intended). As said I couldn't see satirical smartass David Spade in a Disney animation, not by a long shot, but blow me down he actually does a good job with his whiny voice. He is perfect as the spoilt Emperor 'Kuzco' (word play on Cusco in Peru) and actually fits the llama character even better. All the main voice actors in the main roles are really good actually, my favourite easily being Warburton as 'Kronk', that guys voice is just funny...it just is!, his character is brilliantly matched to him also. Same can be said for Kitt as Yzma who was clearly designed around her. Believe it or not but there are only four main characters in the entire film! yep just four, but you don't even notice it. The film is pretty quick to the chase really, not overly long and not overly complicated, but it is quite original in a way. The action can be crazy and over the top feeling more like a weekend cartoon rather than an uncle Walt flick but its thoroughly enjoyable at every turn. My only quibble would be the fact it feels stretched out quite badly, the plot clearly isn't enough to cover a proper run time and you can tell. The whole film could of ended after about 30mins really, both of the two main characters never really feel as if they're that far from the royal city/palace. Oh and 'Pacha's' sweet adoring family make you wanna gag...but that's about it. Certainly a shocker this one, didn't think it would be any good and yet it turns out to be one of the best Disney adventures I've seen for a long long time. The colourful visuals, quirky unconventional (for Disney) artistic style, brisk pace and amusing llama characterisation by Spade are all winners in my book, plus there isn't too much schmaltz. But boy you better believe by the end Kuzco has learnt his lesson in humility and how to be a nice guy and not just thinking about himself all the time. Yeah there's always a good moral in every Disney flick, can't escape em.
Phil Hubbs
Super Reviewer
½
"Emperor's New Groove" is the type of family film that you do not have to be a child in order to love. The voice cast is fantastically cast, the animation is very creative and well done, and the story is a great little heartfelt and funny tale that anyone can enjoy. As the Emperor is just going about his jerky ways, making fun of people and firing his people for no reason, a plot against him to poison him ends up turning him into a Llama. It is a very fun disney movie for all ages and I definitely recommend this film to anyone a fan of animation, or comedy in general
½
For a breezy 79 minutes, this is Disney offering up a silly and slight, but still rather fun and quite funny romp set during the heyday of the Incan Empire. Kuzko is the spoiled, self-centered 18 year-old ruler of the Incas. He doesn't treat anybody except for himself very well, and seems to take joy in screwing over others. After dismissing his crazy adviser Yzma, she, revealing herself to be a sorceress, and feeling quite disgruntled, plots to dispose of the emperor and take over the kingdom for herself. She gets some help from the loyal but dim servant Kronk. When Yzma and Kronk's plan backfires, Kuzko finds that he's been turned into a llama instead of lethally poisoned. From there, he sets out to reverse the potion, take back his throne, and perhaps, even find a bit of redemption. Okay, so the basic story is nothing new, and this film is not likely to please anyone who has even a cursory knowledge of Latin American culture and history (unless they can just turn off the scholarly side of their brains temporarily), but, I nevertheless found this to be pretty fun. It's a silly movie, but I have to give a lot of credit to the colorful designs, great sense of humor, and, most definitely, the work of Eartha Kitt and Patrick Warburton as Yzma and Kronk, respectively. Those two definitely save this movie and totally make it worth it. They're hilarious, have great chemistry with one another, and seem to be having quite a bit of fun. David Spade is decently well cast as Kuzco, but ultimately nothing overtly special. John Goodman is fine as Pacha- a villager who gets caught up in all of these shenanigans, but like Spade doesn't really prove to be all that remarkable. I still liked their work, but think that it could have been better. All in all, this is lesser Disney, but it's not egregiously offensive, has some really good moments, and, like I keep saying, is pretty fun, so yeah, give it a watch.
Chris Weber
Super Reviewer
The Emperor's New Groove Quotes
| | |
| --- | --- |
| Yzma: | Pull The Lever Kronk! |
| Yzma: | Pull the lever Kronk! |
| | |
| --- | --- |
| Yzma: | Pull the lever Kronk... Wrong Lever!! |
| Yzma: | Pull the lever, Kronk! |
| | |
| --- | --- |
| Kuzko: | *Throws acorn at adorable squirrel* HIT THE ROAD, BUCKY! |
| Kuzko: | [throws acorn at adorable squirrel] HIT THE ROAD, BUCKY! |
| | |
| --- | --- |
| Kronk: | Oh! Yzma! Yzma's in your chair! |
| Kuzko: | Very good, Kronk! [holds up dog treat] Get the snack! Get the snack! |